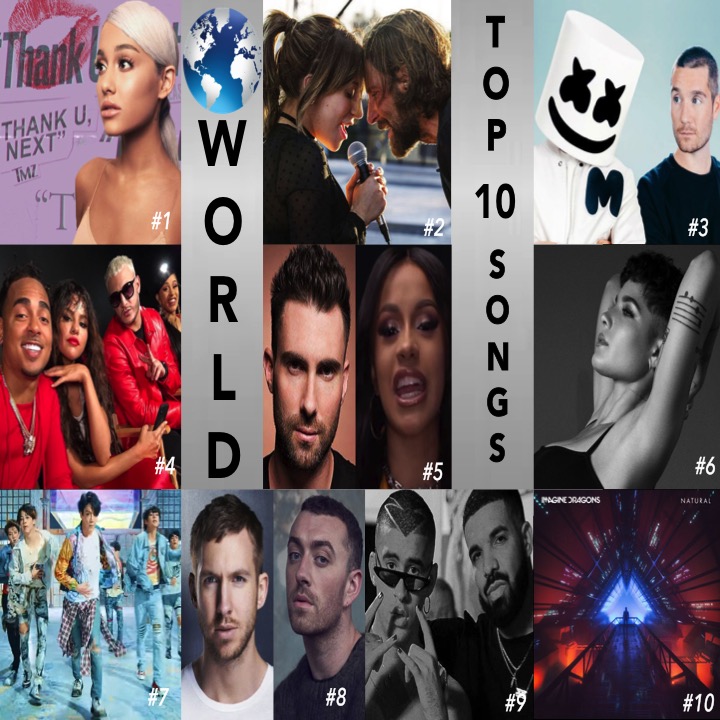 Ariana Grande celebrates her 2nd week atop the Global Track chart! Ariana already topped the chart in week 18 with "No Tears Left To Cry". "thank u, next" which was written by Ariana herself, was the most streamed Song of 2018 in its 1st week. "thank u, next" is currently #1 in the US on the Billboard Hot 100 for a 2nd week, in the UK on the official chart, and is also #1 on the ARIA chart in Australia. The song has also peaked at #1 in Canada, Estonia, Finland, Greece, Ireland, Malaysia, New Zealand, and Singapore, and is top 10 in Austria, the Czech Republic, Denmark, Hungary, the Netherlands, Norway, Portugal, Scotland, Slovakia, South Korea, Sweden and Switzerland, and top 20 in Belgium, France and Germany. 'Thank U, Next' is a self-empowerment song featuring Ariana's past loves, and is from her upcoming fifth studio album of the same name!
Former n°1, Marshmello & Bastille's "Happier", rebounds from 4 - 3 this week and DJ Snake's "Taki Taki" rises 5 - 4 while "Girls Like You" by Maroon 5 feat. Cardi B slips 2 - 5!
Halsey's passionate "Without Me" Single rises 8 - 6 and BTS's "Fake Love" shoots back up to #7 this week after the release of the Single in Japan. 'Fake Love' is the lead single from BTS's 3d studio album 'Love Yourself 轉 Tear', which has sold 2,23 million so far globally.
Calvin Harris's "Promises" with Sam Smith slips 2 spots to #8 while Bad Bunny's "Mia" with Drake rises 10 - 9.
Closing this week's Global Top 10 is Imagine Draguns' "Natural" which soars from last week's position at #18 powered by the release of the Group's New Album 'Origins'. It's Imagine Dragons' 5th global Top 10 success after 'Radioactive' (2013), 'Demons' (2014), 'Believer' and ''Thunder' (both 2017). 
Ed Sheeran's "Perfect" scores a 64th week on the Global Top 40 at #35. Only 'Rolling In The Deep' by Adele from 2011 resisted longer for 65 weeks and Ed Sheeran 's 2017 smash hit 'Shape Of You' which held on the chart for an amazing 79 weeks!