BANGERZ IS THE WORLD'S No.1 BEST-SELLING ALBUM!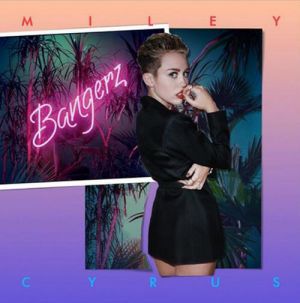 Miley Cyrus's "Bangerz" is top of the World's Best-selling Albums Chart with global sales of 399,000 copies. The Album is also N°1 in America where 270,000 copies were shifted there alone, 31.000 in the UK and 27.000 in Canada. This is Miley's fifth No.1 Album. Her first No.1 hit was the Disney Channel TV series first Soundtrack in 2006 followed by its big-screen film adaptation soundtrack in 2009. Miley herself notched No.1s with the half-soundtrack/half-studioAlbum "Hannah Montana 2/meet Miley Cyrus" in 2007 and then her own "breakout" studio effort in 2008! Her last studio Album, 2010's "cant Be Tamed" debuted and peaked at No.3 selling 102.000 copies in its first week.

This weeks No.2 is German Singer Helen Fischer with her 6th Album "Farbenspiel" which sold 137.000 units in its first week mainly in Germany, Austria, Switzerland, Belgium, Netherlands and Denmark.

Last week's No.1, Justin Timberlake's "The 20/20 Experience Part 2",  slips to No.3 this week.

Drakes "Nothing Was The Same" slides from No.2 to 4 after selling 116.000 units in its 3rd week. The Album debuted at No.1.

Closing the top 5 is Vegas Rock Band, Panic At THe Disco, with their new Album "Too Weird To Love, Too Rare To Die" and sales of 101.000.

New Zealand breakthrough sensation Lorde slips from No.3 to 6 with "Pure Heroine" and sales of 89.000.

Metal Band Korn debut at No.7 with "The Paradigm Shift" shifting 87.000 units and Rapper Pusha T  enters at No.8 with "My Name Is My Name" and sales of 81.000.

Kings of Leon's Mechanical Bull" slips from No.6 to 9 with sales of 58.000 and Cher closes this week's Top 10 with her new Album "Closer To The Truth"  shifting another 55.000 copies!

New US entries outside the top 10 is The Glee Cast's new Album "Glee: The Quarterback EP" with 54.000 copies sold, Cassadee Pope's "Frame By Frame" at No.17 (45.000 Units) and Mayday Parade's "Monsters In The Closet" at No.25 (30.000 units).

New entry from the UK  is "Brand New Machine" by British electronic Duo Chase & Status at No.29 (27.000 units).

From Asia, Japanese Actress/Singer Miki Imai debuts at No.33 with "Miki imai sings Yuming Classics" and sales of 23.000.

Adele's "21" has real staying power and sells another 13.000 copies this week. The Album has sold over 26 Million copies since its release in 2011!


Website Proudly Designed, Development & Supported by Nocturnal Cloud.