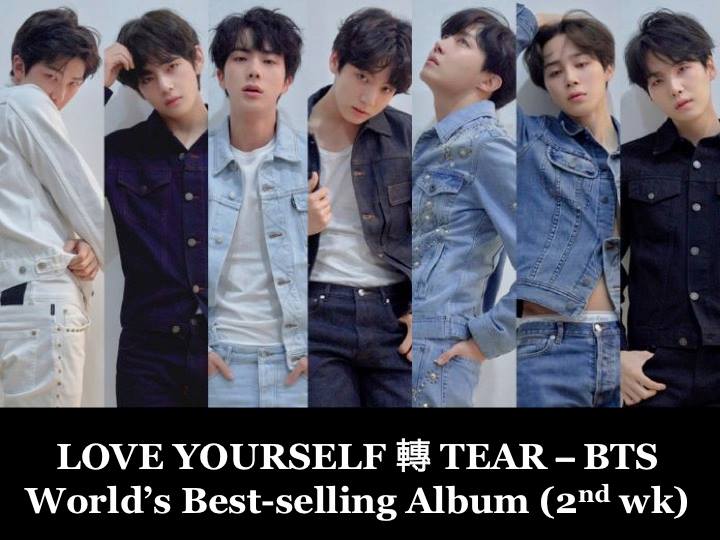 Korean Superstar Group BTS tops the Global Chart for a 2nd week with their top-selling Album 'Love Yourself 轉 Tear' after moving another 752,000 in equivalent sales. BTS is the first K-pop group to have two consecutive albums exceed one million in pre-orders in Kore

a! After its release, 'Love Yourself Tear' sold over one million copies during its first week, around 250,000 copies more than Love Yourself: Her, with BTS becoming the first K-pop artist to achieve this on the Hanteo chart since its inception in 1993, and making them true "double million sellers" (without repackage).


On May 27, 2018, the album debuted at number one on the US Billboard 200, earning 135,000 album-equivalent units (including 100,000 pure album sales), becoming BTS' highest-charting album in the US, as well as the first K-pop album to top the US albums chart, and the highest-charting album by an Asian act! It is also the highest Album sales week for both BTS and a Korean act in the United States, and the first album primarily in a non-English language to top the Billboard 200 since Il Divo with 'Ancora' in 2006.


The Album also went to N°1 in Japan on the Billboard Hot Albums chart, and has already reached Top 10 in Australia, Austria, Belgium, Canada, Finland, Ireland, New Zealand, Norway, Sweden, Switzerland and the UK!


In just 10 days, 'Love Yourself 轉 Tear' sold enough around the world to push the Album to no.5 on the year-end list, becoming the 5th best-selling Album of 2018 so far!