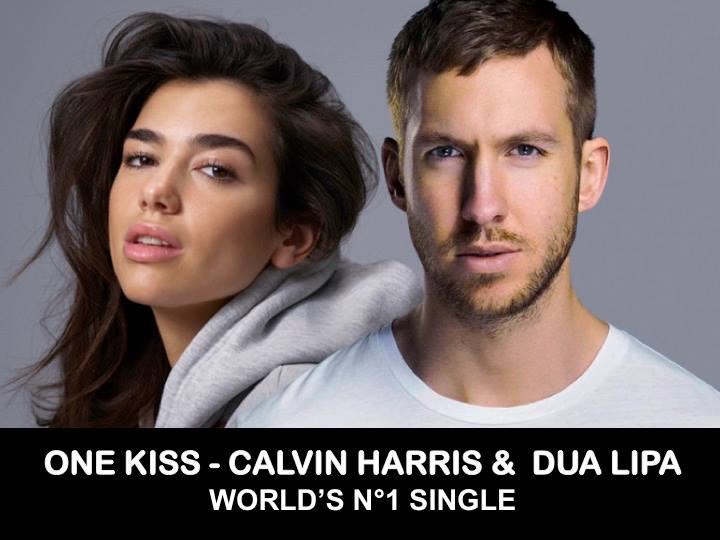 Calvin Harris tops the global track chart for the 2nd time with 'One Kiss', a collaboration with British Superstar Dua Lipa who scores her 1st global number one! Calvin's first N°1 was "We Found Love" with Rihanna six and a half years ago which topped the global chart for 14 weeks! 

"One Kiss" was written by Calvin, Dua & Jessie Reyez and was released on 6 April 2018, as the 2nd single from Harris' upcoming 6th studio album. The accompanying trippy music video, directed by Emil Nava, features Lipa dancing in front of a number of bright and tropical backdrops. Harris plays a waiter.

The Song is N°1 again this week in the UK after 7 weeks atop the Official chart. So far, it has reached n°1 in Austria, Belgium, Croatia, Czech Republic, Germany, Greece, Hungary, Ireland, Israel, Latvia, the Netherlands, Scotland and Slovakia! It has peaked at N°2 in Denmark, Hungary, Lebanon, Luxembourg and Mexico, N°3 in Casa De Australia Macau, N°4 in El Salvador, Sweden and Switzerland, N°5 in France and Portugal, N°6 in Argentina, Malaysia and New Zealand, N°7 in Romania, N°9 in Ecuador, Poland, Slovenia and N°10 in Italy!