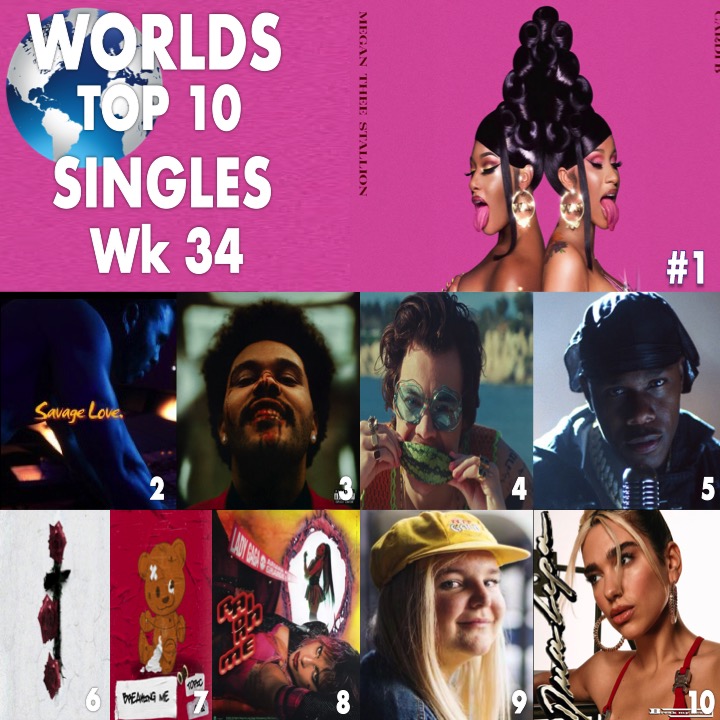 Cardi B and Megan Thee Stallion's "WAP" debuts at #1 on the Global Track Chart! It's Megan's 1st chart topper and Cardi's 2nd following her Maroon 5 collab, "Girls Like You" which topped the Global Track Chart  for 10 non consecutive weeks beginning the week of July 7, 2018 through November 3rd, 2019! "WAP" is an acronym for 'Wet-Ass Pussy' and is the lead single from Cardi's upcoming 2nd studio album. The song sees Cardi and Megan discuss how they want men to please them, using several sexual innuendos. 'WAP' replaces the chart topping "Savage Love (Laxed - Siren Beat)" by Jason Derulo and Kiwi Producer Jawsh 685 which slips to #2 after 3 weeks at #1!  
Former chart topper, "Blinding Lights" by the Weeknd, which held at #1 for 17 non consecutive weeks, lifts 4-3 in its 37th week on the chart. It is the top selling Single of 2020!
Harry Styles' "Watermelon Sugar" dips 3-4 this week on the Global Track Chart, while former #1, Dababy's "Rockstar" ft Roddy Rich, holds at #5 after holding for 5 weeks at #1! 
SainT JHN's "Roses" (Imanbek Remix) holds at #6 while Topic's "Breaking Me" ft. A7S holds at #7 and Lady Gaga's chart topping collab, "Rain On Me" with Ariana Grande, holds at #8!
Tones and I's smash hit "Dance Monkey" lifts 10-9, after a record-breaking 45th week in the Global Top 10, while Dua Lipa's "Break My Heart" lifts 12-10 in its 20th week on the chart!