Celine Dion's new Album 'Courage' debuts at #1 on the Global Album chart with first week sales of 254.000!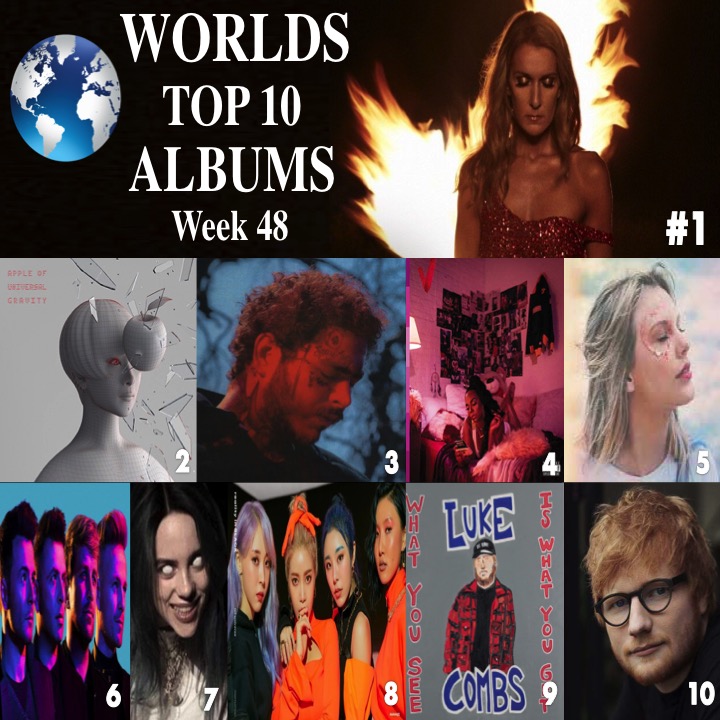 Canadian Superstar Celine Dion returns to #1 on the global album chart with her 12th English-language studio Album 'Courage' and 254,000 equivalent sales, 113,000 of it from the United States and 55,000 from her native Canada according to Billboard / Nielsen Soundscan. Celine sold another 23,000 units in France according to SNEP, and 19,000 in United Kingdom, according to Official charts. Celine's last English-language LP, 'Loved Me Back To Life' debuted in 2013 at #2 globally with 253,000 album sales, outsold by Eminem's 'The Marshall Mathers LP 2', which debuted that week with 1,221,000 sales! Celine Dion's ''Let's Talk About Love' (1997) and 'Falling Into You' (1996) have each sold over 30 million units!
New entry at #2 for Ringo Sheena, Japanese singer, songwriter and ex-member of the rock band Tokyo Jihen, with her greatest hits compilation 'Newton No Ringo: Hajimete No Best Ban' and sales of 110,000 according to Oricon!
Post Malone's former #1, 'Hollywood's Bleeding', holds at #3 after selling another 111.000 while
Canadian Rapper Tory Lanez debuts at #4 with his 'Chixtape 5
'
after selling 103.000 units in its 1st week!
Taylor Swift's 'Lover' holds at #5 after selling another 86.000 while Westlife debuts at #6 with their brand new Album titled
'
Spectrum' and first week sales of 73.000.
Billie Eilish's 'When We All Fall Asleep, Where Do We Go?' dips 6 - 7 after selling another 68.000 while Mamamoo debuts at #8 with 'Reality in BLACK' and sales of 65.000.
Country Artist Luke Combs' 'What you see is what you get" drops 2 - 9 after selling another 64.000 units in its 2nd week while Ed Sheeran's 'No.6 Collaborations Project' dips 8 - 10 after selling another 56.000 units!
Website Proudly Designed, Development & Supported by Nocturnal Cloud.