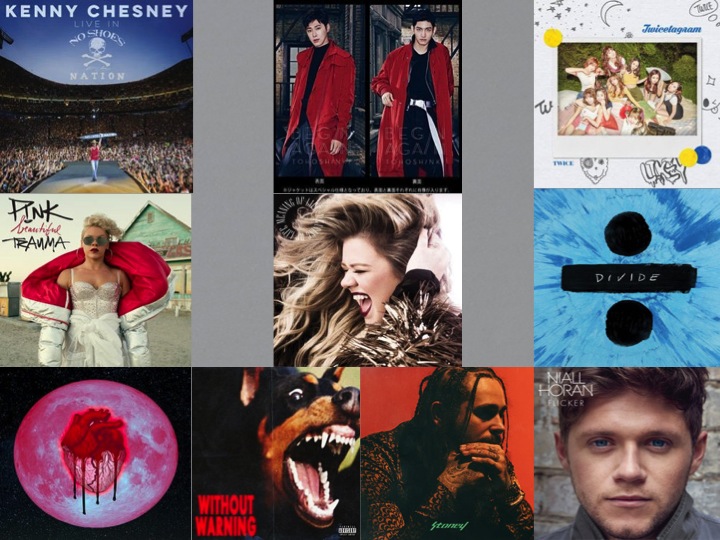 Kenny Chesney goes straight to N°1 on the Global Album chart with his
live album 'Live In No Shoes Nation' after 219,000 equivalent sales in
the United States alone where the cost of the CD of Chesney's album was
included in the price of each ticket sold online for his tour! With
almost 2,000 sales from Canada, the album has a total of 221,000 in its
first week!


Korean Idol group Tohoshinki's 'Fine Collection ~ Begin Again' debuts at
N°2 with 133,000 sales and 'Twicetagram' by TWICE enters the chart at
no.3 with 123,000 sales.
This week's Highest-ranking non-debut Album is P!nk's 'Beautiful
Trauma', which slips one slot to no.4 with sales of 109,000 , a total of
1,034,000 so far.
New entry for Kelly Clarkson's 'Meaingful Life' at N°5 while Ed
Sheeran's 'Divide' ranks holds at N°6, in its 35th week on the chart,
and 97,000 consumption units last week for a total of massive 7,887,000
sales.


New entry for Chris Brown's new Album 'Heartbreak On A Full Moon' at N°7
after shifting 89,000 in its 1st week on sale.


21 Savage, Offset & Metro Boomin's 'Without Warning' debuts at N°8 with
sales of 62,000. Post Malone's 'Stoney' holds at N°9 after selling
another 60,000 and Niall Horan's 'Ficker' shifts 56,000 this week and a
total of 299,000 in its first 2 weeks, slipping from N°2 to 10!