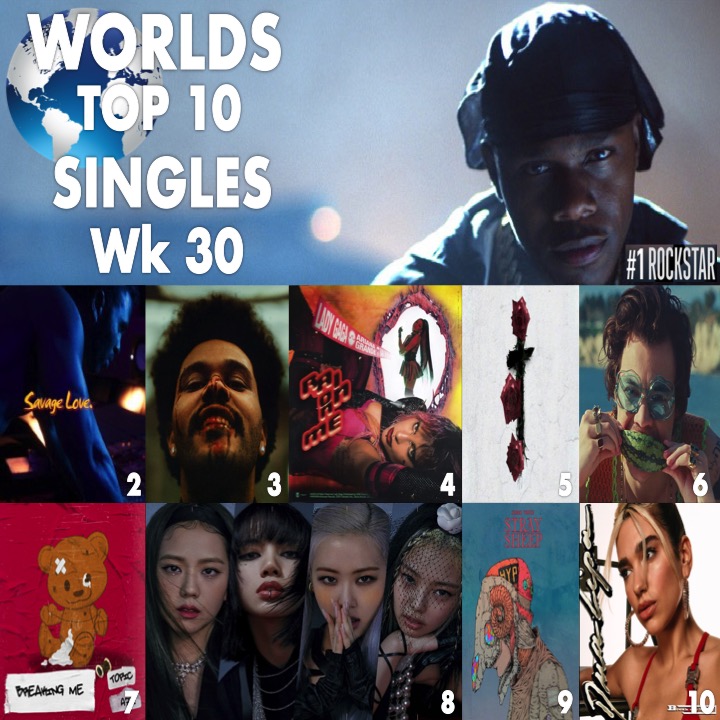 DaBaby's "Rockstar" ft. Roddy Ricch tops the Global Track chart for a 5th week! Released on April 24, 2020, "Rockstar" spent 54 days atop the Global Spotify chart, going to #1 on the US Billboard Hot 100 in its 7th week, on June 13, becoming DaBaby's 1st chart-topper and Roddy Ricch's 2nd. The song has spent 6 non consecutive weeks at No. 1 in the US, becoming the first single to spend multiple weeks atop the Billboard Hot 100 after a run in which five songs each spent a first and only week at the summit! "Rockstar" also spent 6 weeks at number one in both Australia and the UK and 8 weeks atop the Irish chart. It has also topped the weekly charts in Austria, Canada, Denmark, the Netherlands, New Zealand, Portugal & Switzerland, and has peaked in the top ten in Belgium Flanders (#2), Czech Republic (#3), Finland (#4), France (#6), Germany (#3), Hungary (#4), Italy (#8), Norway (#2), Scotland (#4), Singapore (#8), Slovakia (2) and Sweden (#3). The song is the 2nd single from DaBaby's 3rd studio album 'Blame It on Baby' (2020), and was penned by DaBaby, Ricch and its producer Seth In The Kitchen. On June 12, 2020, DaBaby released a Black Lives Matter Remix of the song ft. Ricch's original verse, regarding the George Floyd protests that started in May 2020, and his own experience with police abuse.
"Savage Love" (Laxed - Siren Beat) by New Zealand music producer Jawsh 685 and Jason Derulo lifts 3-2 this week while the Weeknd's former 17-week chart topping single, "Blinding Lights", holds at #2 for a 4th week and is the best-seling Single this year so far!
Lady Gaga and Ariana Grande's "Rain On Me" holds at #4 for a 2nd week! "Rain On me" is the biggest debut of the year on the Global Track Chart! Released on May 22, it's Gaga's 7th global No.1 hit and Grande's 5th!
The Imanbek Remix of SAINt JHN's "Roses" holds at #5 this week, Harry Styles' smash hit "Watermelon Sugar" holds at its peak at #6, Topic's "Breaking Me" feat. A7S holds at #7 and BLACKPINKs "How You Like That" holds at #8 after debuting at #6 two weeks ago! It's the Group's 1st global Top 10 hit. The Song had the biggest debut of All Songs of All Time on YouTube with 1.66 concurrent views and scored the most views in the history of YouTube in its 1st 24 hours, racking up over 86.3 million views!! The music video also became the fastest in YouTube history to hit 100 million views in just 32 hours, and the fastest to reach 200 Million views in just 7 days and 46 minutes on July 3. Its also the fastest group video to reach 300 million views on the platform!
Kenshi Yonezu's "Kanden" debuts at #9 this week on the Global Track Chart while Dua Lipa's "Break My Heart" dips 9-10.