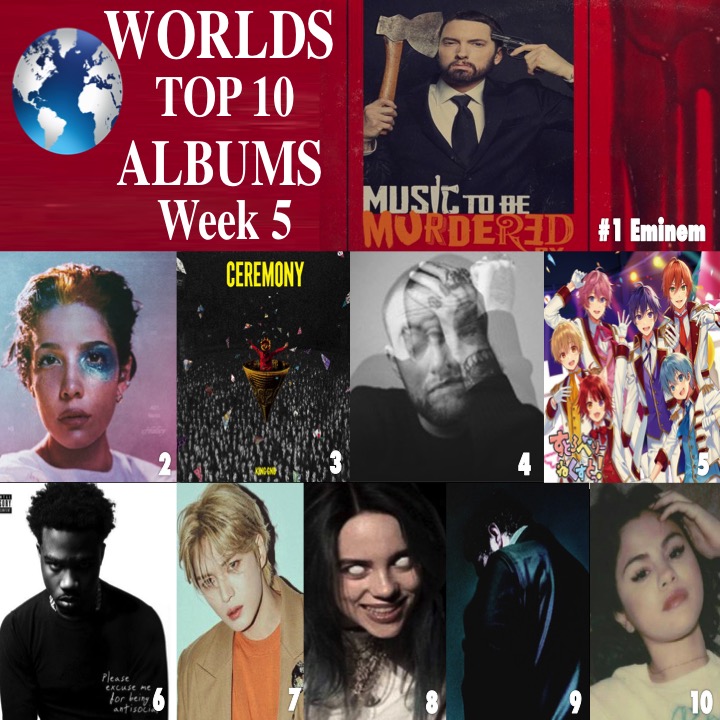 Eminem's 'Music to Be Murdered By' is the World's best-selling Album this week, topping the Global Chart with 415,000 equivalent sales after going to #1 in 15 countries including Australia, Belgium, Canada, Czech Republic, Denmark, Estonia, Finland, Ireland, Lithuania, the Netherlands, New Zealand, Norway, Switzerland, the UK & US, the only Act in history to score 10 No.1 Albums in a row in the UK and US! 

Eminem has done it again as his new controversial album 'Music to Be Murdered By' debuts at #1 on the Global Album chart with 415.000 equivlent sales, after selling 279.000 in the US and 33.000 in Canada according to Billboard/Nielsen Soundscan, and 36.000 in the UK according to the Official Charts company. Em's 11th critically acclaimed studio album was released by surprise on January 17 via Aftermath Entertainment, Interscope Records and Shady Records just like his previous album 'Kamikaze' in 2018. Produced by Eminem, Dr Dre and others, it features Anderson Paak, Black Thought, Don Tolliver, Ed Sheeran, Joell Ortiz, Juice Wrld, Kxng Crooked, Q-Tip, Royce da 5'9", Skylar Grey and Young M.A. The album debuted at #1 on the weekly charts of 15 countries, scoring an Official UK Chart Double as "Godzilla" debuted at #1 on the official Singles chart! Eminem extended his record-breaking run of consecutive #1 albums in the US and UK to 10! No other act in UK/US chart history has managed to land as many chart-topping albums in a row!
Back to this week's Global Top 10 Albums Rank, 'Manic', the 3rd album by American singer Halsey, debuts at #2 with 295,000 equivalent sales, the 2nd highest global debut of the week, while Japanese alternative rock Group, King Gnu, lands at #3 with 'Ceremony' after selling 282.000 units in its 1st week! 
New entry at #4 for the late Macmiller's 'Circles', his 6th studio album, selling 209,000 equivalent units, while Japanese animation Act, Sutopuri, debuts at #5 with 'Strawberry Next' and 1st week sales of 170.000!
Roddy Ricch's former #1, 'Please Excuse Me for Being Anti-Social' dips 3-6 this week, selling another 120.000 equivalent units and 734.000 so far, while japanese Singer Kim Jae Joong debuts at #7 on the global chart with sales of 98.000 after going to #1 on the Gaon album chart in Korea this week with his brand new album 'Ayo/Love song'. 
Billie Eilish's 'when we all go to sleep, where do we go' dips 5-8 on the global chart selling another 79.000 units and over 4.840 million copies so far, while Post Malone's "Hollywood's Bleeding" drops 4-9 after selling another 78.000 and over 3.150 million so far! 
Last week's #1, Selena Gomez's 'Rare', falls 1-10 this week after selling another 70.000 units and over 260.000 so far!