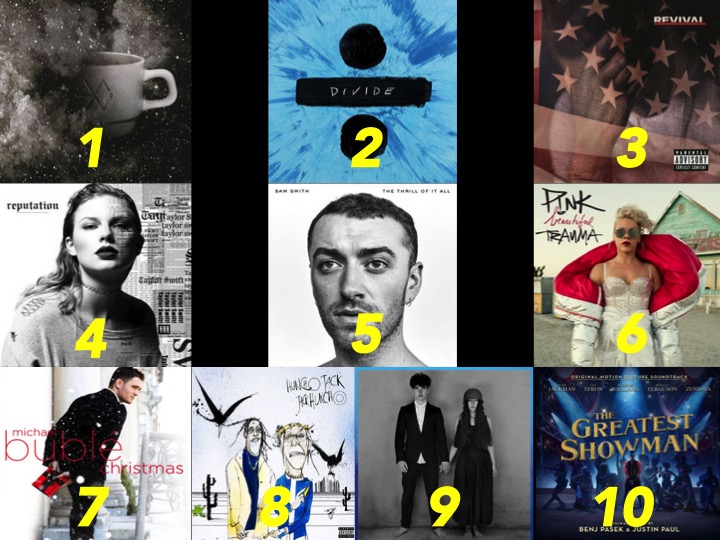 Korean Superstars EXO top the World Album chart with their new EP 'Universe' (Winter Special EP 2017) and equivalent sales of 356,000! Even though the Album was delayed due to the tragic passing of SHINee's Jonghyun, the Album has scored in physical sales, debuting atop the global chart.
Ed Sheeran's 'Divide' is the 2nd best-selling Album of the week, having shifted another 341,000 in equivalent sales for a total of 9.636.000.
Last week's number one, Eminem's 'Revival', slips to N°3 with 254,000 sales and a total of 856,000 after two weeks on the chart.
Taylor Swift's 'Reputation' shifts another 178.000 in equivalent sales this week, slipping one spot to N°4 with total sales so far surpassing 2.981.000.
Sam Smith's 'The Thrill Of It All' closes this week's top 5, down one from last week, with equivalent sales of 168.000 and 1.544.000 in total!
P!nk's 'Beautiful Trauma' slips one spot to N°6 after selling another 132.000 equivalent sales this week and 1.948.000 so far!
Michael Bublé's 'Christmas' slips one spot to N°8, shifting another 131.000 copies and 11.721.000 in total so far since its release in 2011.
New entry at N°8 for Travis Scott & Quavo's new Album 'Huncho Jack, Jack Huncho' which debuts with sales of 122,000!
#U2's 'Songs Of Experience" slips from 7 to 9 with equivalent sales this week of 115,000 and total sales since its release 4 weeks ago of 865.000!
Closing this week's top 10 is the Soundtrack of The Greatest Showman with equivalent sales of 113.000.