GOT7's 'Call My Name' debuts at #1 on the Global Album chart with first week sales of 231.000!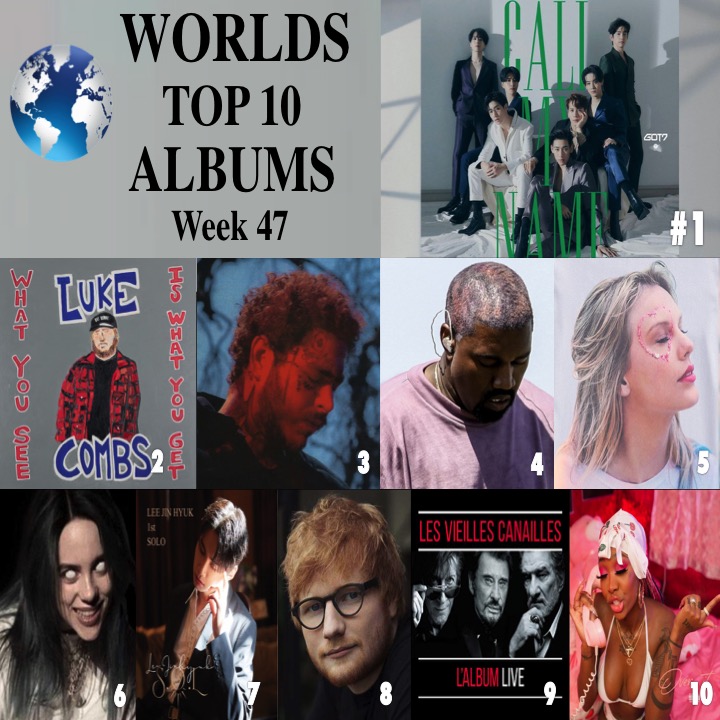 GOT7 lands at #1 on the Global Album chart this week with their 10th EP, 'Call My Name', selling a whopping great 231.000 equivalent units! The Album was released through JYP Entertainment on November 4, 2019 and went straight to #1 on the Worldwide iTunes Album chart, powered by its lead single "You Calling My Name". The Album, 'Call My name' debuted at #1 on the Gaon Albums chart in Korea, at #5 on the Billboard World Albums chart, at #16 on the Oricon Album chart in Japan and at #17 on the ARIA Digital chart in Australia. The hugely popular Korean Band just finished their Keep Spinning World Tour!
New entry at #2 for Country Artist Luke Combs and his brand new Album 'What you see is what you get', after selling 194.000 units in its 1st week while Post Malone's former #1, 'Hollywood's Bleeding', lifts 4 - 3 after selling another 111.000!
Kanye West's former #1, 'Jesus Is King', rises 5 - 4 after selling another 68,000 copies this week and Taylor Swift's chart topping album 'Lover' reenters the top 10 at #5 after selling another 66.000 copies.
Billie Eilish's 'When we all fall asleep, where do we go?' reenters the Top 10 at #6 after selling another 63.000 equivalent units, Lee JIn Kyuk's 'S.O.L' debuts at #7 with sales of 63.000 and Ed Sheeran's 'No.6 Collaborations Project' lifts 10 - 8 selling another 62.000 units!
New entry at #9 for Jacques Dutronc, Johnny Hallyday & Eddy Mitchell's 'Les Vieilles Canailles: L'Album Live' with first week sales of 61.000 units. The Album also debuted at #1 in France on the official Snep physical albums chart.
Summer Walker's 'Over It' reenters the global chart at #10 after selling another 58.000 units!
Website Proudly Designed, Development & Supported by Nocturnal Cloud.