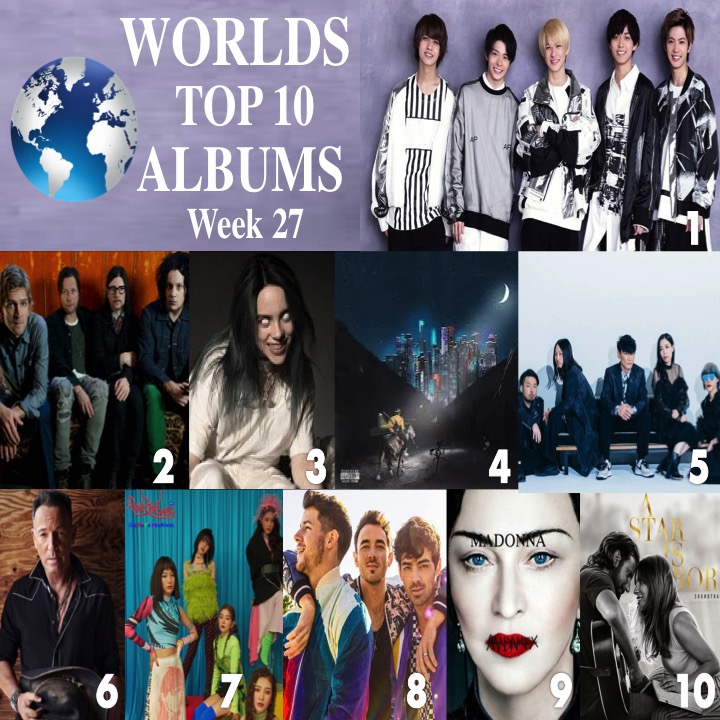 King & Prince's self entitled Album lands at #1 on The Global Album Chart with equivalent sales of 468.000 according to Oricon. 
New entry at #2 for The Raconteurs' 'Help Us Stranger' and equivalent sales of 123.000!
Billie Eilish's 'When We All Fall Asleep, Where Do We Go?' rises 4 - 3 after selling another 107.000 copies and 2.290 million so far while Lil Nas X lands at #4 with his 1st Debut Album 'Seven' and sales of 101.000 in its 1st week!
Japanese Group Sakanaction lands at #5 with their brand new Album '834.194' while last week's chart topper, Bruce Springsteen's 'Western Stars' falls 1 - 6 this week after selling another 81.000 equivalent units and 309.000 since its release!
New entry at #7 foe Red Velvet's 'The ReVe Festival Day 1' after selling 75.000 equivalent units in its 1st week while former #1, the Jonas Brothers' 'Happiness Begins' dips 5 - 8 after selling another 62.000 copies and 628.000 so far!
Madonna's 14th Studio Album 'Madame X' falls 2 - 9 in its 2nd week on the Global Chart after selling 56.000 equivalent units and 272,000 so far!
Closing this week's Top 10 on the Global Albums chart is Lady Gaga & Bradley Cooper's 'A Star Is Born Soundtrack which dips 9 - 10 after selling another 52.000 units and 4.599.000 so far!