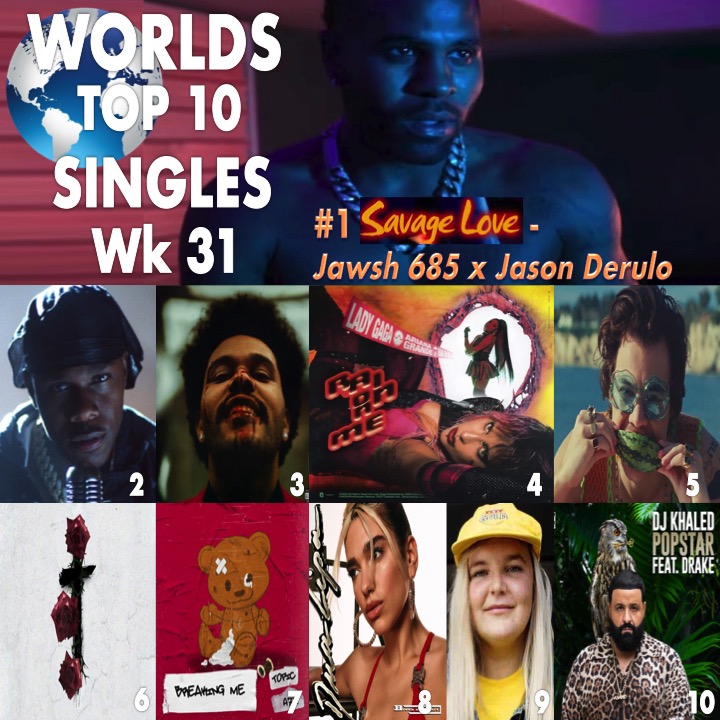 Jason Derulo scores his 1st global number one hit with "Savage Love (Laxed - Siren Beat)" by New Zealand Producer Jawsh 685 who also scores his first No. 1 hit record! Jawsh 685 first released the instrumental version titled "Laxed (Siren Beat)" to YouTube in 2019. The original song was a tribute to Jawsh 685's Samoan and Cook Island roots and went viral on Tik Tok in 2020, sparking the "Culture Dance" challenge, in which others would show off their cultural roots while dancing to the song. Following its viral success, "Laxed (Siren Beat)" was officially released to online platforms on 24 April 2020 and Jawsh 685 signed with Columbia Records in May 2020. Following the viral success of "Laxed (Siren Beat)" on TikTok, Jason Derulo posted a video of himself partaking in the "Culture Dance" challenge, which received tens of millions of views. Jawsh 685 was in talks with multiple artists, including Derulo, to remix "Laxed (Siren Beat)". On 11 June 2020, Columbia Records officially released the new Jason Derulo Remix after receiving clearance from Jawsh who is credited as an artist and co-writer, as well as the track's sole producer. "Savage Love (Laxed – Siren Beat)" has so far peaked at number one in Australia, Austria, Belgium, Ireland, the Netherlands, New Zealand, Norway, Scotland, Sweden, Switzerland and the United Kingdom. In the United Kingdom, the song became Derulo's fifth number-one single and topped the official chart for 3 consecutive weeks. In Ireland, the song became Derulo's first number-one single and in Australia it held atop the ARIA Singes chart for 4 consecutive weeks! In the US, the Song has peaked so far at #8 on the Rolling Stone Singles chart and at #12 on the Billboard US Hot 100! The song has so far hit #2 in Denmark, Finland, Germany, the Netherlands, Singapore & Slovakia, #3 in Canada, the Czech Republic & Malaysia, #5 in Hungary, #6 in Italy, #7 in Portugal, #8 in Panama, #10 in El Salvador & Romania and #12 in France! "Savage Love" has already been certified Silver in the UK for sales of 200,000, Gold in both Australia and Italy for sales of 35,000 and Platinum in new Zealand for sales of 30.000! "Savage Love" ends the 5 week reign of 'Rockstar', the collab of the new American rap superstars Dababy and Roddy Ricch which dips 1-2. 
Former number One, The Weeknd's "Blinding Lights", holds at #3 after topping the global chart for 17 non consecutive weeks!
Lady Gaga's "Rain On Me" with Ariana Grande holds t #4 after topping the global chart in its 2nd week on the chart, while Harry Styles' "Watermelon Sugar" reaches a new peak at #5, up one spot from last week!
SAINt JHN's "Roses" remixed by Imanbek dips 5-6 after peaking at #2, while Topic's "Breaking Me" ft. A7S holds at #7. 
Dua Lipa's "Break My Heart" lifts 10-8, and Tones and I's "Dance Monkey'" reenters the Top 10 at #9 after previously topping the chart for 16 non consecutive weeks. The Song has been 43 weeks inside the top 10, extending her new all time record for most weeks in the Top 10, a title previously held by Ed Sheeran! 
New entry at #10 for DJ Khaled & Drake's amazing new track "Popstar"!