J.Cole's 'KOD' is the World's Best-selling Album!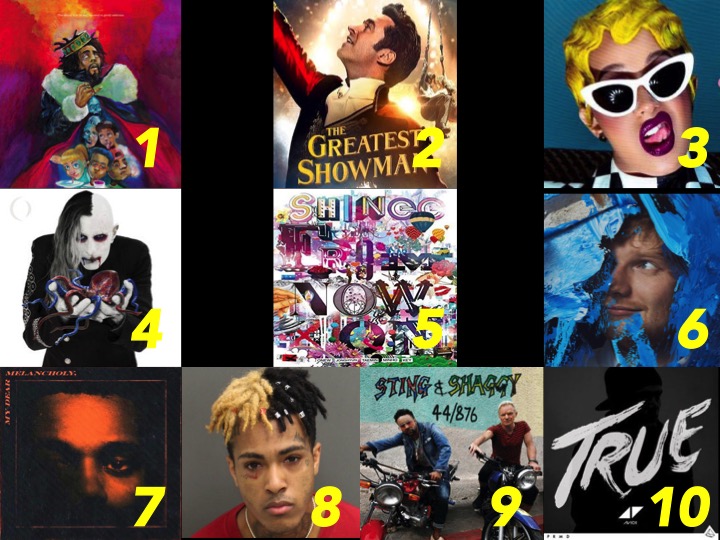 German-American hip-hop artist J.Cole's 5th studio album 'KOD' (an abbreviation of Kids On Drugs, King Overdosed and Kill Our Demons) soars to the top of the Global Album chart this week with 477,000 equivalent sales, 397,000 of which is from the US according to Nielsen Soundscan. J.Cole's last album '4 Your Eyez Only' also debuted at n°1 in decemb
er 2016 with 417,000 units and a total of 1,3 million so far. 


Still holding at n°2 is the'The Greatest Showman' Soundtrack, which sells another 122,000 units and is the best-selling album of 2018 so far with total sales of 2.74 million!


At n°3 this week is Cardi B's 'Invasion Of Privacy' after selling another 122,000 this past week and a total of 589,000 since its release.


New entry at n°4 for A Perfect Circle's 'Eat The Elephant' with 1st week sales of 113,000!

샤이니(SHINee)'s brand new Album 'The Best From Now On' debuts at n°5 on the global Album Sales Chart with 93,000 equivalent units, mostly in Korea.


At n°6 is Ed Sheeran's 'Divide', up one spot from last week after selling another 72,000 units. Since its release in March 2017, 'Divide' has moved a total of 12 million and is the 2nd best-selling Album of 2018!


The Weeknd's 'My Dear Melancholy, slips one spot to n°7 after shifting another 59,000 units and a total of 468,000 so far.


Xxxtentacion holds at n°8 with his chart topping new Album '?' after selling another 54,000 and a grand total of 595,000.


Closing this week's Global Top 10 Albums, is Aviccii's 'True' with equivalent sales of 49,000 and total sales of 2.255 million since its release in 2013. 'True' is the Swedish EDM Star's biggest Seller, powered by the global smash hit 'Wake Me Up!'. 'True' rockets back to no.10 with 49,000 sales and a total of 2,26 million since its release.
Website Proudly Designed, Development & Supported by Nocturnal Cloud.