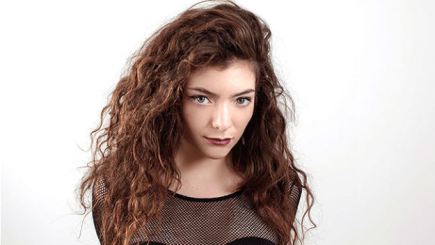 Lorde has the World's 5th best-selling Single this week! Her global hit "Royals" is also No.3 in the American Hot 100 Singles Chart for a third week and N°1 on the Digital Songs Chart (307,000, up 17%). She is the first solo female to send a debut entry to No.1 on the sales tally since Carly Rae Jepsen ruled for eight weeks last year with "Call Me Maybe." The track crowns alternative Songs for a seventh week, extending its mark as the longest leading N°1 by a lead female in the chart's 25-year history. "Royals" tops Hot Rock Songs for a fourth week and blasts into the Pop Songs top 10 (13-5).
But Lorde, at just 16, is a singer and songwriter with the maturity of someone twice her age. Born Ella Yelich-O'Connor on the North Shore of Auckland, New Zealand, Lorde has been compared to Alanis Morissette but cites artists such as James Blake, Etta James, Fleetwood Mac, and Otis Redding as her influences. Lorde was discovered by her current manager and Universal Music New Zealand A&R rep Scott Maclachlan at age 12 and was signed to the label at just 13. In 2012 Lorde released her debut EP, "The Love Club EP". The five-track EP reached No. 23 on the Billboard Top 200, spurred by the hit "Royals". The singer admitted it was pretty easy to write the song. "Lyrically, I wrote it super fast. I was just at home on a Saturday or something and wrote it in like half an hour, an hour," Lorde said. "And it didn't even end up getting rearranged that much. The bridge was the only part I wrote afterward, and then it took us kind of a few days in the studio figuring it out. Yeah, it was swift, I guess."
In regards to her much anticipated debut Album "Pure Heroine" out Sept. 30, but currently streaming online, Lorde says she loves the song "Ribs," which is about "getting old and rites of passage and being a teen and all that kind of stuff." Produced by Joel Little, "Pure Heroine" features 10 tracks co-written by Lorde, including "Royals" and "Tennis Court". Lorde is currently in the midst of an international tour with dates scheduled through February 2014.