Maroon 5's 'Girls Like You' with Cardi B scores an 8th week atop the Global Track Chart!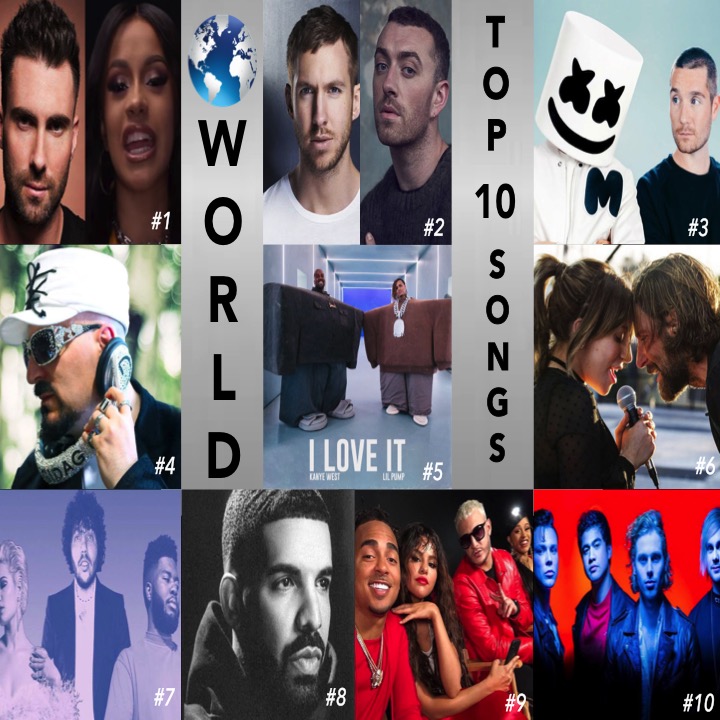 The Song 1st topped the chart week 27 and 28 this year then slipped to #2 when Drake's 'In My Feelings' took over for 7 weeks. 'Girls Like You' returned 
to N°1 week 36 for another 4 weeks then slipped once again to #2 due to the release of Japanese Idol Group's AKB48's top-selling 'Sentimental Train' two weeks ago. Last week the Song returned to No.1 for a 7th non-consecutive week and this week holds atop the global chart. 
The single has been N°1 on the US 
Billboard Hot 100
 chart for 4 weeks now, Maroon 5's 4th and Cardi B's 3rd chart-topper, extended her record for most cumulative number-ones among Female Rappers.
 "Girls Like You" has also reached number one in 15 other countries including Brazil, Canada, Croatia, France, Greece, Israel, Latvia, Lebanon, Malaysia, Mexico, New Zealand, Roumania, Singapore, Slovakia and Venezuela! The Single has been certified Four Times Platinum in Canada, Triple Platinum in Australia where it peaked at #2, Platinum in Italy, New Zealand, Spain, Sweden and the US and Gold in Belgium, Brazil, Denmark and the UK! 
As of October 2018, the official " Girls Like You" video has reached over 1 billion views, making it the fourth most viewed video of 2018!
"

Promises" by Calvin Harris & Sam Smith holds at #2 and 
"H
appier" by Marshmello & Bastille holds at #3.
Dynoro's "In My Mind" with Gigi D'Agostino moves up one spot from 5 - 4 on the Global Track chart while Kanye West's "I Love It" with Lil Pump slips 4 - 5 this week!
Lady Gaga & Bradley Cooper
'
s 

"S

hallow" from the 'A Star Is Born' soundtrack rockets from #27 to 6 after topping the Worldwide itunes chart for 21 days! It's Lady GaGa's 16th hit Single on the Global Top 10! Her first, "Just Dance" feat. Colby O'Donis entered the Global Top 10 chart nearly 10 years ago in the week 49, 2008!
Holding at #7 is Benny Blanco's "Eastside" with Halsey and Khalid, while former N°1, Drake's "In my Feelinhgs"" slips 6 - 8.
DJ Snake's "Taki Taki" moves up 2 spots from 11 - 9 and 5 Seconds of Summer closes this week's Top 10 with their smash hit Single "Youngblood", down one spot from last week's position at #9.
Website Proudly Designed, Development & Supported by Nocturnal Cloud.