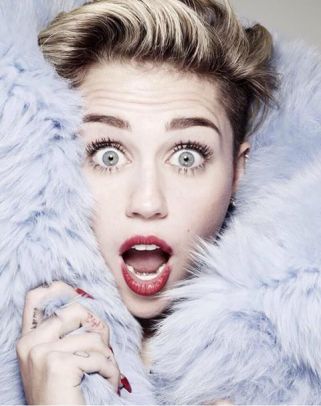 Today Miley Cyrus officially released her fourth studio album, "BANGERZ" with RCA Records. Bangerz represents a musical departure from Hannah Montana, which she has grown to feel "disconnected" from. She considers it to be her debut record.  The lyrical themes revolve largely around her romance with former fiancé Liam Hemsworth. The record features guest vocals from several new partners, including pop singer Britney Spears and rappers Big Sean, French Montana, Future, Ludacris, and Nelly.
Two singles have been released from Bangerz thus far. The lead single "We Can't Stop" and "Wrecking Ball" both hitting the top of the World charts. The "Wrecking Ball" video currently holds the Vevo record for the most views in the first 24 hours of its release, and the fastest video to reach 100 million views on the service. 
Miley's says her album was influenced by the Motown Sound and acts like Miguel and Frank Ocean. She describes the music as "dirty south hip-hop" combining the genres of hip-hop and country, which she felt was a "good hybrid". To achieve this sound, Cyrus worked with various hip hop producers including Mike Will Made It, Mac Miller, Pharrell Williams, and Tyler. They helped her to incorporate hip hop music elements into the project, which Cyrus acknowledged resulted in a "really different sound".
Bangerz is primarily a 13 track pop album, which also integrates elements of hip hop, synthpop, and country music. It has gone straight to N°1 on I Tunes and received generally favorable reviews from music critics.