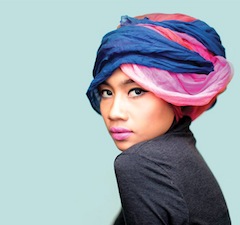 Unless you didn't know, Yuna is an amazing Malaysian-born singer-songwriter about to take the world by storm!
Yuna's most anticipated second American album "Nocturnal" is out this week. The Album is a collaboration with the famous DJ Chad Hugo from The Neptunes and Robin Hannibal from the LA based Indie Duo Rhye.

Yuna's meteoric rise on the Malaysian indie music scene was largely due to the strong following she gained when she joined Myspace in 2006. In 2008, she released the single "Deeper Conversation" off her first Album which became a huge hit. Yuna comes from a strong jazz folk influence but when she moved to America 3 years ago, she learned how to mix R&B, hip-hop and Pop and started working with world famous Producers like Pharrell Williams who produced her single "Live Your Life" in January 2012. 

On April 24, 2012, Yuna's U.S. debut self-titled Album was released and debuted at No.23 on the Pop chart and No.86 on the Top 100 Albums on iTunes. Accolades from fans and critics alike, such as Billboard, NPR, Elle, NY Times, Vibe, Allure, Seventeen, MTV Style, Marie Claire and National Geographic all raved about her because her sound is "fresh, honest and deeply personal." She has toured with Graffiti6 and performed at Bonnaroo and Lollapalooza. She also contributed to the Savages soundtrack on the track, "Here Comes the Sun". In 2012, Yuna was recognized with a National Youth Icon Award, awarded by the Prime Minister of Malaysia, Datuk Seri Najib Razak, for her exceptional achievements in arts.

Yuna recently signed with Verve Music Group. Multiple Grammy-winning producer David Foster, who heads the creative operations of Verve, tweeted: "I'm really excited about the next hot artist to join Verve Music. Stay tuned and keep an eye out for Yuna in 2013".