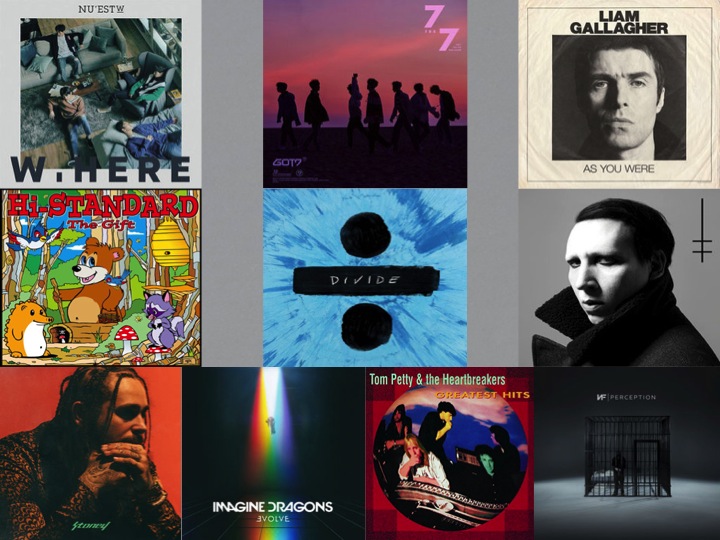 뉴이스트 Nu'est's 'W. Here' is not only the N°1 Album in Korea this week,
but also the World's top selling Album! Released in two versions, the
Portrait version sold 96,900 copies in its initial week, according to
Hanteo and the Still Live version shifted 91,100 units. Both versions
are calculated together for the Gaon Chart in Korea and the Global
Chart!


GOT7, another South Korean boy group is the 2nd best-selling Album in
Korea and the world this week with '7 For 7' garnering 168,000 in
equivalent sales.


Liam Gallagher, lead singer of the legendary British rock Band Oasis,
debuts at N°3 with his 1st Solo LP, 'As You Were' which enters the
global chart with 152,000 equivalent sales, 102,700 of it from United
Kingdom alone. 16,000 are vinyl sales which is the highest Single week
vinyl sales in 20 years according to the Official Chart Organization.


Japanese Act, High Standard, debut at N°4 this week with 'The Gift' and
equivalent sales of 122,000.


Ed Sheeran's 'Divide' moves up one from 6 to 5 after selling another
89,000 copies for a total of 7.603.000 copies.


Marilyn Manson debuts at N°6 this week with his latest LP 'Heaven Upside
Down' and sales of 79,000.


Post Malone 'Stoney' reenters the chart at N°7 with equivalent sales of
61.000 for a total of 1.419.000. 'Stoney' was released in December 9,
2016 and reentered the chart thanks to Malone's global chart topping
Single "Rockstar" ft. 21 Savage.


Imagine Dragons slip from 8 to 9 with 'Evolve' and equivalent sales of
60,000 this week for a total of 1.292.000!


Tom Petty and the Heartbreakers's 'Greatest Hits' slips from 4 to 9 this
week after shifting another 59,000 copies!


Closing the Top 10 Albums chart globally is NF's 'Perception' with
equivalent sales of 59.000 in its first week at retail.