"One Kiss" by the World's highest paid DJ Calvin Harris and British Superstar Dua Lipa is the World's N.1 Single for a 4th week!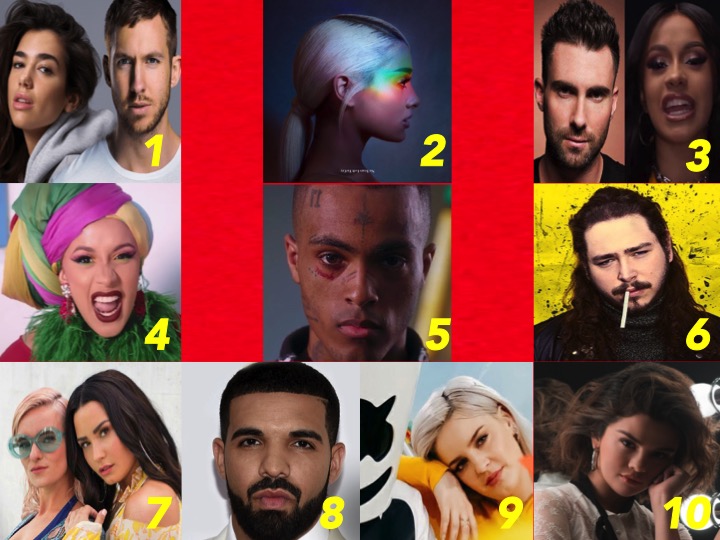 "One Kiss" by Scottish Superstar DJ Calvin Harrisand British singer/songwriter Dua Lipa holds at N°1 on the Global Track Chart for a 4th week! It's the 2nd single from Harris' upcoming 6th studio album and has already surpassed 3.5 million in global sales! The Song has peaked at N°1 in the UK for 8 whole weeks and has hit N°1 in Australia, Austria, Belgium, Croatia, Czech Republic, Germany, Greece, Hungary, Ireland, Israel, Latvia, Lebanon, Luxembourg, Mexico, the Netherlands, Poland, Portugal, Scotland and Slovakia! The Song has peaked at N°2 in Denmark, Hungary, Slovenia and Switzerland, at N°3 in El Salvador and Finland, at N°4 in France, Panama and Sweden, at N°5 in Malaysia, Norway, and Singapore, at N°6 in New Zealand and Romania, at N°8 in Canada and Italy and at N°9 in Ecuador!

Former N°1, Ariana Grande's "No Tears Left To Cry", holds at n°2 after 9 weeks on the chart.

Maroon 5's "Girls Like You" ft. Cardi B rises one spot to N°3 and Cardi B's "I Like It" ft. Bad Bunny& J Balvinclimbs one spot to N°4!

Xxxtentacion's last Song "Sad!" before he was shot at just 20 reenters the chart at N°5. It's the highest position for a posthumous hit by a Rap Act since The The Notorious B.I.G.'s "Hypnotize" which reached N°3 in May 1997, weeks after he was shot in a drive-by. 

Post Malone's "Better Now" rises one spot from 7 - 6, Clean Bandit's "Solo" ft. Demi Lovato shoots from 15 - 7, Drake's "Nice For What" slips 2 spots from 6 - 8, marshmello's "Friends" ft. Anne-Marieholds at N°9 and closing this week's Top 10 is Selena Gomez's "Back To You".
Website Proudly Designed, Development & Supported by Nocturnal Cloud.