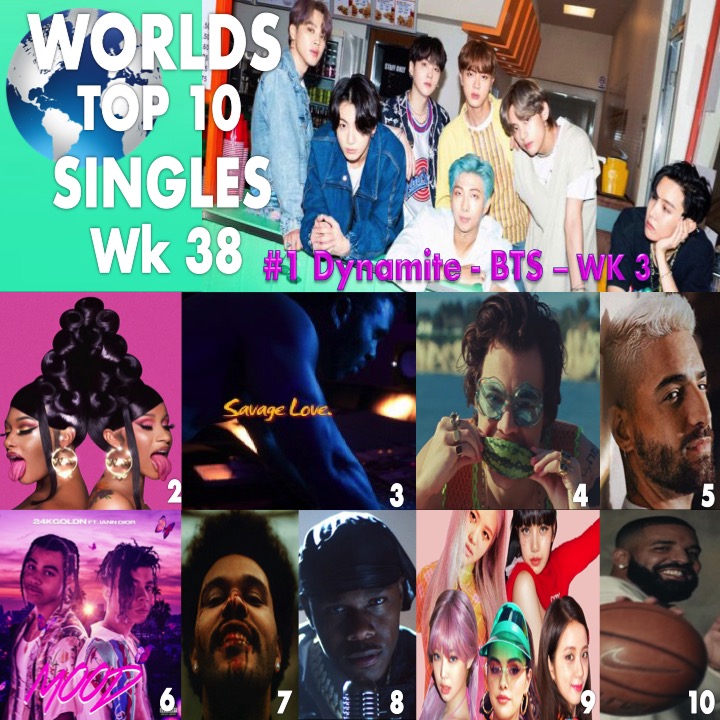 Pop Kings BTS are #1 for a 3rd week atop the Global Track Chart with their smash hit "Dynamite"! 'Dynamite' is BTS' first English-speaking Song and rocketed to #1 two weeks ago, scoring the biggest first week sales of 2020! The 2nd biggest debut this year is "Blinding Lights" by The Weeknd who congratulated the band for their first US Hot 100 No. 1 saying it was huge for Asia! "Dynamite" is BTS's 7th Global Top 10 hit and the only Korean song in the chart's history to hit #1 since PSY's "Gangnam Style" 8 years ago. "Dynamite" is the first Korean Song ever to go to #1 on the US hot 100 chart in America. The song scored 300,000 equivalent units, the biggest 1st week sales in 2020! The song also topped the Billboard Digital Song Sales chart, selling 265,000 downloads, the biggest pure sales week since Taylor Swift's "Look What You Made Me Do" in 2017. "Dynamite" is just the 20th song to debut at #1 on the US Hot 100 and spend its first two weeks atop the chart since Billboard began its charts in 1958. The song sold another 182,000 units in its 2nd week at #1 in America! "Dynamite" has peaked at #1 in several other countries including South Korea where it scored a Perfect All kill for 2 consecutive weeks at #1 on the Gaon Digital, Download, Streaming and BGM charts! "Dynamite" holds for a 3rd week atop the Gaon Digital and Streaming charts! Its BTS' 7th number one in Korea and the 2nd in 2020 after "On". The Song has so far peaked at #1 in Belgium (Wallonia), Colombia, Hungary, Lithuania, Malaysia, Peru, Scotland and Singapore. It has reached #2 in Australia, Canada, Estonia, Israel, Japan on the Billboard Japan Hot 100 and in the US on the Rolling Stone Top 100 and the new Global 200 Billboard chart and the Global Billboard Chart outside of America! In the UK, "Dynamite" debuted at #3 on the official chart and was certified gold shortly after, becoming the band's most successful single to date! "Dynamite" also peaked at #4 in New Zealand & Switzerland, #5 in Brazil & Uruguay, #6 in Guatemala & Ireland, #7 in Slovakia, #8 in Germany & Russia, #9 in Costa Rica, Czech Republic, the Netherlands & Panama, #10 in Mexico, #12 in El Salvador, #13 in Finland, #18 in France & Malta, #19 in Argentina, Greece & Sweden, #20 in Norway, #22 in Latvia, #26 in Denmark, #28 in Italy, #38 in Spain and #64 in Romania. "Dynamite" debuted atop the Worldwide iTunes Song Chart after peaking at #1 in 104+ countries in its 1st day including the US and is the fastest song in history to hit 100 x #1s on iTunes! It also scored the biggest debut of the year on Spotify, topping the Global Spotify Chart with 7,778,950 streams and the US chart with 1,824,254 plays! Its also the biggest Group debut of All Time on the platform! "Dynamite" also scored the biggest debut of All time on YouTube with over 3 million concurrent viewers, and was the most viewed video on the platform in its first 24 hours! YouTube officially confirmed that the video was viewed by 101.1 Million in its 1st day! Its the fastest video to reach 100 & 200 Million views and the fastest Group video to reach 300M! "Dynamite" has broken 3 Guinness World Records Including "Most Viewed YouTube Video In 24 Hours", "Most viewed YouTube Music Video in 24 hours" and "Most Viewed YouTube Music Video in 24 hours by a K-pop group"!
'WAP' by the American female rappers Cardi B and Megan Thee Stallion holds at #2 for a 4th week after debuting at No. 1, while 'Savage Love (Laxed - Siren Beat)' by New Zealand producer Jawsh 685 and Jason Derulo holds at #3 after previously topping the Global Track Chart for 4 non consecutive weeks!
Harry Styles' "Watermelon Sugar" holds at #4 while "Hawái", the new single by Colombian singer/ songwriter and actor Maluma which has reached record breaking streaming levels in Latin America lifts 8-5 this week on the United World Chart!
American Rapper 24KGoldn's "Mood" feat. Iann Dior from Puerto Rico shoots holds at #6 for a 2nd week after scoring the largest points increase last week while former chart topper, the Weeknd's  "Blinding Lights" dips 5-7 after 17 weeks atop the global chart and former chart topper Dababy's "Rockstar" ft. Roddy Ricch dips 7-8.
BLACKPINK's "Ice Cream" with Selena Gomez lifts 10-9 in its 2nd week after scoring last week's Hot shot debut. Released on August 28, "Ice Cream" debuted at #1 on US ITunes and the Worldwide iTunes Song chart and in the Top 5 of the US and Global Spotify charts! The song has so far peaked at #13 on the US Billboard Hot 100, becoming Blackpink's first single to hit the Top 20, surpassing "How You Like That" and "Sour Candy", both of which peaked at number 33! Blackpink are now the first all-female act since Fifth Harmony to have 3 consecutive top 40 hits! The song also debuted at #2 on Billboard's Digital Songs chart after BTS's "Dynamite" and at #8 on Billboard's Streaming Songs chart, having sold over 23,000 digital copies and reached over 18.3 million streams in its first week! The song reached 5.1 million radio airplay audience impressions during its first week of tracking! The song also debuted in the Top 40 in Australia, Canada, Ireland, Lithuania, New Zealand, Singapore and the UK with BLACKPINK becoming the Korean act with the most top 40 singles in UK chart history!!
Drake's "Laugh Now, Cry Later" ft. Lil Durk, dips 9-10 in its 4th week on the chart!