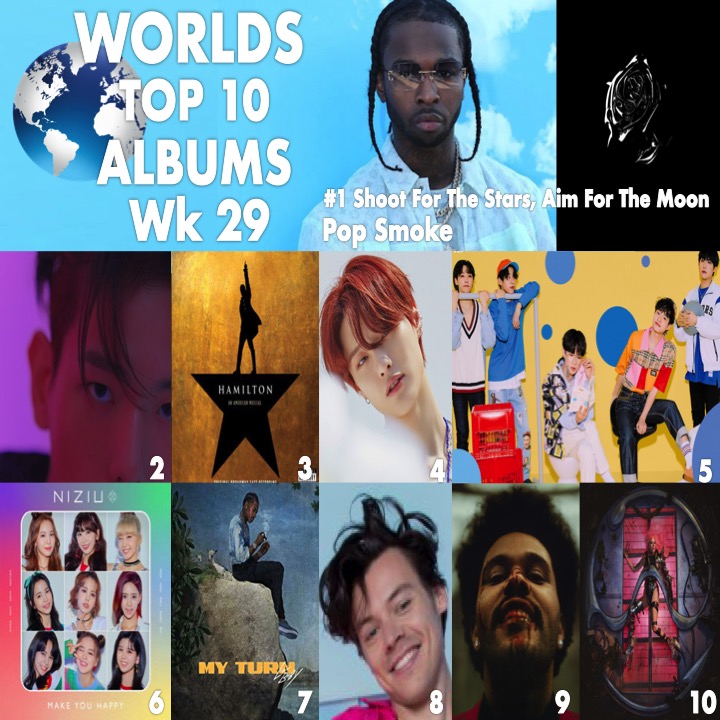 Pop Smoke's posthumous Album 'Shoot For The Stars, Aim For The Moon' debuts atop the Global Album Chart with 349.000 equivalent sales units! 251,000 of the 349.000 was sold in the United States, 22,000 in Canada and 20,000 in the UK. Pop Smoke was just 20 when he was fatally shot during a home invasion in Los Angeles on February 19 this year. 
Korean Superstar Baekhyun from the Iconic Group EXO reenters the Top 10 at #2 with his Million Seller EP 'Delight' after selling another 149,000 units this week. The Album debuted at no.1 five weeks ago with sales of 712,000. 
The Original Broadway cast album to the 2015 musical 'Hamilton' reenters the global Top 10 at no.3 with 119,000 sales due to Disney's streaming premiere of the filmed version of the Broadway stage show, with most of the Broadway cast.
New entry at #4 for Korean Act Woodz' 'Equal' after selling 103.000 units in its 1st week, while AB6IX lands at #5 with its brand new album 'Vivid' and sales of 97.000.
New entry at #6 for NIZiU's 'Make You Happy' after selling 96.000 units in its 1st week, while Lil Baby's 'My Turn' drops 2-7 after selling another 66.000 units and 1.529 million so far!
Harry Styles' Fine Line' slips 6-8 after selling another 66.000 units and 2.492.000 million so far, while The Weeknd's 'After Hours' slips 7-9 after selling another 59.000 units and 2.034 million since its release and Lady Gaga's 'Chromatica' drops 3-10 selling another 59.000 and a total of 989.000 so far!