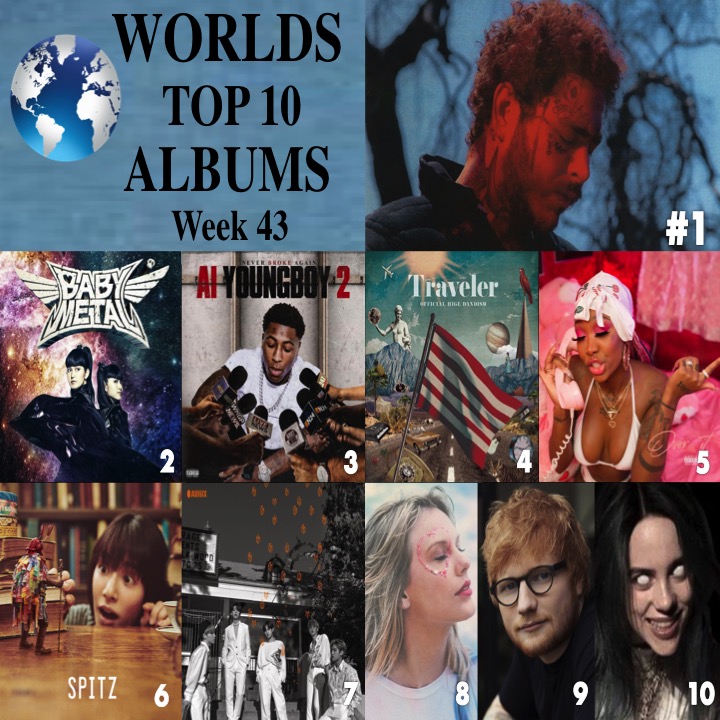 Post Malone's 'Hollywood's Bleeding' rebounds to #1 on the Global Album Chart for a 3rd non-consecutive week after selling another 156,000 equivalent sales and a total of 1,696,000 so far! 
Japanese heavy metal Girl Band Baby metal scores this week's highest debut with their third studio album 'Metal Galaxy' and equivalent sales of 121,000 with 79,000 of it sold in Japan. 
Texan Rapper Young Boy Never Broke Again debuts at #3 with 'AI YoungBoy 2' and equivalent sales of 115.000.
New entry at #4 for Japanese Male piano pop band Official Hige Dandism and their new Album 'Traveler' which debuts with equivalent sales of 106,000.
Summer Walker's 'Over It' dips 3 - 5 after selling another 93.000 units and a total of 250.000 so far while Japanese rock-band Spitz debuts at #6 after selling 84,000 equivalent units of its brand new Album 'Mikke' and Korean boy group AB6IX debuts at #6 with their 1st studio album '6ixense' and equivalent sales of 77,000!
Taylor Swift's 'Lover' dips 7 - 8 after selling another 77.000 copies with sales of 3.973 Million after selling 3 Million units in its 1st week including a million sales in China alone! 
Ed Sheeran's 'No.6 Collaborations Project' holds at #9 after selling another 75.000 units and a total of 2.070.000 so far and Billie Eilish's 'When We All Fall asleep, Where Do We Go' dips 8 - 10 after selling another 72.000 equivalent units and 3.670.000 so far!