SEVENTEEN's New Mini Album 'Semicolon' Explodes Atop The United World Album Chart With 1,033,000 Equivalent Sales, Their 2nd Million Seller Album In 4 Months!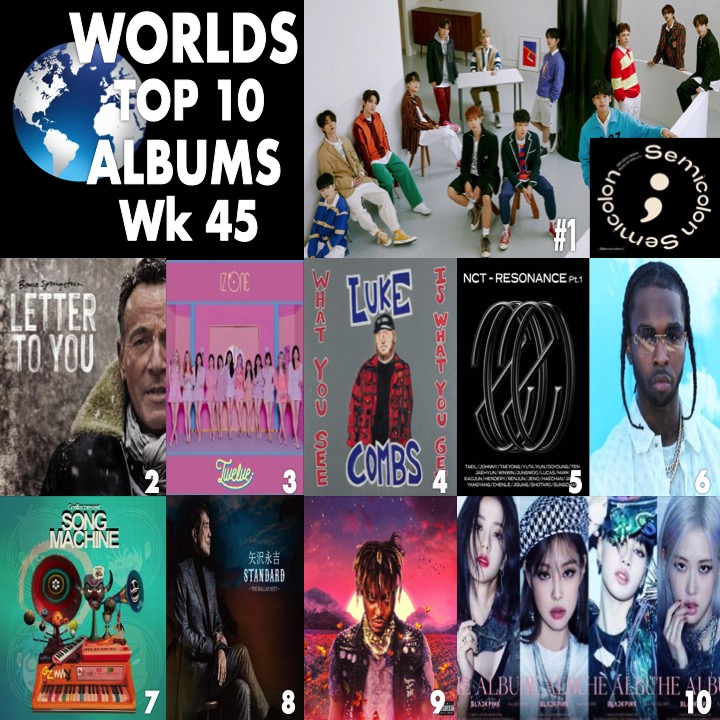 SEVENTEEN's New Mini Album 'Semicolon' has rocketed to #1 on The United World Album Chart with 1,033,000 equivalent sales! It's SEVENTEEN'S 10th EP and was released by Pledis Entertainment on October 19, 2020, just 4 months after its first Million Seller EP 'Heng:garæ'! 'Semicolon' features 6 tracks, including the lead single "Home;Run", all of which were co-penned by the band members themselves! 'Semicolon' was recorded as a "special album" with its lyrics reaching out to comfort those suffering during the ongoing COVID-19 pandemic! 'Semicolon' hit No. 1 on South Korea's Gaon Album Chart, surpassing 1.1 million units, breaking their previous record of 1.06 million stock pre-orders with Heng:garæ. Semicolon's title track, "Home;Run", debuted at #1 on the Gaon Download Chart in Korea. 'Semicolon' also reached #2 on the Japanese Oricon Albums Chart on November 2, 2020.
Bruce Springsteen debuts at #2 with his 20th studio album: 'Letter To You' and 248,000 global sales.
New entry at #3 for 'Twelve', the 2nd album by South-Korean / Japanese girl group, Iz*One, with sales of 140,000!
Luke Combs holds at #4 with 'What You see Is What You Get' after selling another 126.000 units and 1.217.000 so far!
Last week's chart topper, NCT's 'RESONANCE Pt. 1', drops 1-5 after selling another 103.000 units and 867.000 so far, while former No. 1, Pop Smoke's 'Shoot For The Stars, Aim For The Moon' slips 4-6 after selling another 103.000 units and 2.474.000 so far!
New entry at #7 for Gorillaz' new Album 'Song Machine, Season One: Strange Timez' after selling 73.000 units in its 1st week, while Eikichi Yazawa's new album 'Standard ~ The Ballad Best' debuts at #8 with sales of 73.000!
Former #1, Juice WRLD's 'Legends Never Die' dips 7-9 after selling another 66.000 units and 2.233.000 so far, and closing this week's Top 10 is BLACKPINK's 'The Album' after selling another 65.000 units and 1.117.000 so far in its 4th week in the Global Top 10!
Website Proudly Designed, Development & Supported by Nocturnal Cloud.