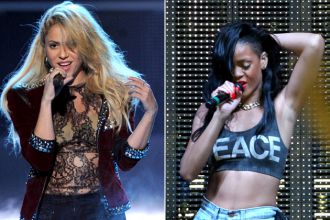 Stop the world right now#ShakiraIsBack! Colombian super star singer Shakira marked a date for her highly-awaited return to the music scene. After several delays finally it's here! The new single was released on digital retailers on January 13, 2014. It's officially called "Can't Remember to Forget You", and it has the guest vocals of Barbadian pop starRihanna. This is too much!
The song was co-written by Shakira and Rihanna with the collaboration of John Hill, Tom Hull, Daniel Alexander and Swedish singer-songwriter Erik Hassle, known by his European smash single 'Hurtful', released in 2008.  The official video was recorded between 6 and 8 of December. Shakira confirmed that the video was directed by Joseph Kahn on Twitter.
The track seems to be influenced by the Jamaican Rocksteady meets Ska, used on No Doubt's latest studio album "Push and Shove", released in 2012. Shakira moves away from the more commercial pop dance sound, and returns betting on a pop rock style, something closer to her beginnings in the music world.
Among the confirmed songs for the new album are: "Truth or Dare" [commonly "I Dare You (On the Dancefloor)"] a powerful dance-track produced by Dutch record producer Afrojack whose music video directed by Anthony Mandler, produced by Heather Heller and edited by Jeff Selis. It was filmed in Lisbon (Portugal) on June 29, 2012 through Black Hand Cinema and Live Nation Entertainment. The song was written by Raelene Arreguin, John J Conte Jr. and Jay Singh (BMI).
On the other hand, the other track is entitled "Beautiful Disaster" and was also written by Raelene Argurin, John J Conte Jr. and Singh Jay (BMI). The tracks are scheduled to be included on Shakira's eighth studio album of her career, still untitled, will be released digitally in the first quarter of 2014 via Roc Nation and Sony Music Latin. The singer has been working with Afrojack, RedOne, Fernando Garibay, Ester Dean, Benny Blanco, Ne-Yo and Akon. Between officially recorded songs is one titled "Zodiac Lover".