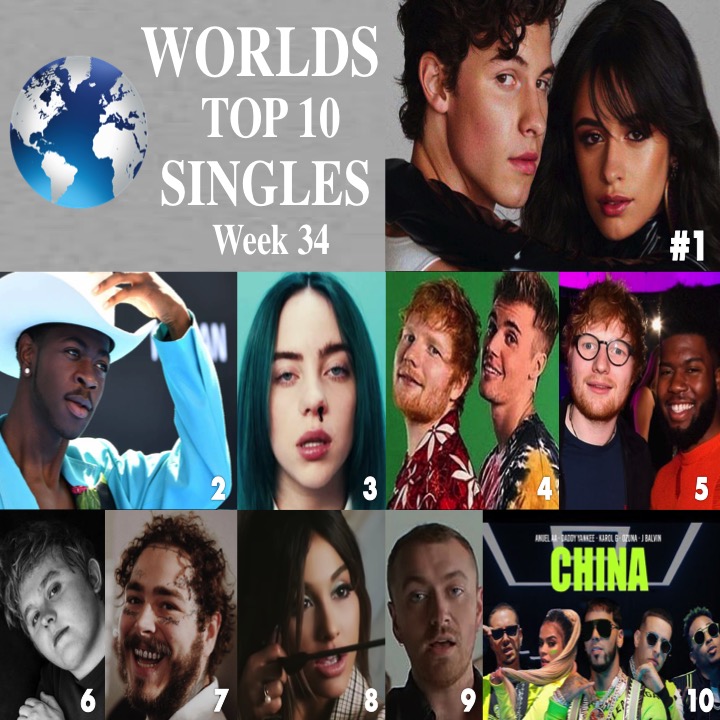 Shawn Mendes & Camila Cabello's "Señorita" reigns atop the global Track Chart for a 6th consecutive week! Its the Song of the Summer without a doubt, after topping the weekly national charts in Argentina, Australia, Austria, Bulgaria, China, Croatia, the Czech Republic, Denmark, Finland, Germany, Greece, Hungary, Iceland, Ireland, Israel, Italy, Lebanon, Luxemburg, Malaysia, Mexico, the Netherlands, New Zealand, Nicaragua, Norway, New Zealand, Norway, Portugal, Romania, Scotland, Singapore, Slovakia, Sweden, Switzerland and the United Kingdom, and peaking at #2 in Belgium, Canada, Costa Rica, Estonia, Poland, Slovenia and the United States! The Song has topped the iTunes Worldwide Song chart for over 60 days and broken the Spotify record for the biggest Male/Female Duo Debut of All Time!
Lil Nas X's "Old Town Road" ft. Billy Ray Cyrus holds at #2 for a 6th week on the Global chart after 13 weeks at #1 while Billie Eilish's "Bad Guy" rebounds 4 - 3.
Ed Sheeran's "I Don't Care" with Justin Bieber dips 3 - 4 and Ed's other collab "Beautiful People" with Khalid holds at #5 for a 3rd week while Lewis Capaldi's "Someone You Loved" rises 8 - 6. 
Post Malone "Goodbyes" ft Young Thug holds at #7 for a 2nd week while Ariana Grande's "Boyfriend" with Social House dips 6 - 8 in its 2nd week.
Sam Smith's "How Do You Sleep" climbs 10 - 9 and Anuel AA's "China" ft Daddy Yankee, KaRol G, Ozuna & J Balvin dips 9 - 10!