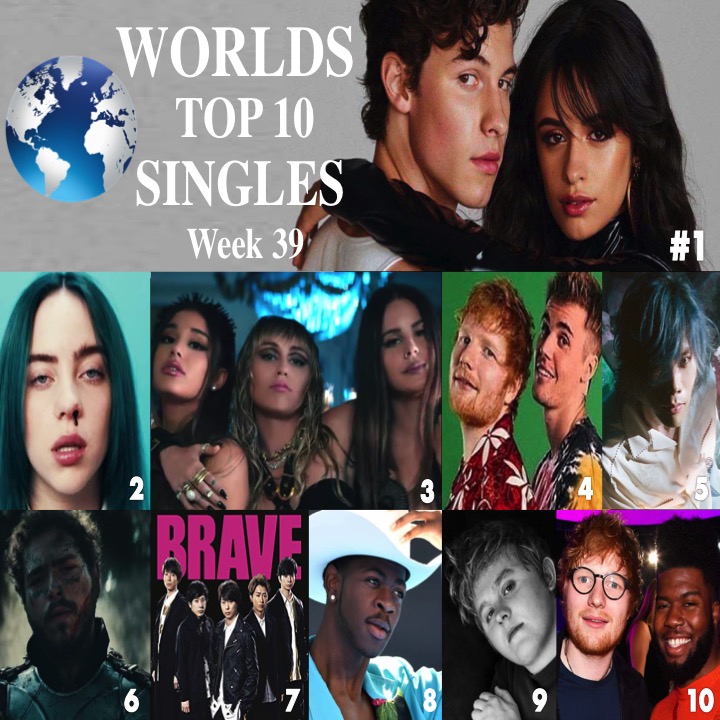 Shawn Mendes & Camila Cabello's "Señorita" reigns atop the global Track Chart for an 11th straight week after topping the national charts in 45 countries including Argentina, Australia, Austria, Belarus, Belgium, Bulgaria, Canada, China, Costa Rica, Croatia, the Czech Republic, Denmark, Finland, Germany, Greece, Hungary, Iceland, Ireland, Israel, Italy, Latvia, Lebanon, Lithuania, Luxemburg, Malaysia, Mexico, the Netherlands, New Zealand, Nicaragua, Norway, Panama, Poland, Portugal, Romania, Russia, Scotland, Singapore, Slovakia, Slovenia, Sweden, Switzerland, Taiwan, the UK, the US and Venezuela! "Señorita" is the most streamed Song of the Summer globally on all Platforms. it has topped the iTunes worldwide Song chart for 92 days so far and is #1 on the Apple worldwide chart for a 97th day. It has also been #1 on the Global Spotify chart for 97 days after breaking the Spotify record for the biggest Male/Female Duo Debut of All Time!
Billie Eilish's "Bad Guy" rebounds 3 - 2 in its 25th week on the chart while this week's highest new entry at #3 is "Don't Call Me Angel" by Ariana Grande, Miley Cyrus and Lan Del Rey! The song is the lead single from the soundtrack of the new 2019 edition of the 'Charlie's Angels' series. The first series was released in November 2000, with the lead Single "Independent Women (Part 1)" by Destiny's Child becoming a global No.1 smash hit in January 2001! 
Ed Sheeran's "I Don't Care" with Justin Bieber rebounds 5 - 4 while Kenshi Yonezu's "Uma To Shika" rockets 36 - 5 in its 3rd week on the chart!
Post Malone's "Circles" slips 4 - 6 this week while Japanese Superstar Group Arashi's new World Cup Single "Brave" debuts at #7 and Lil Nas X's "Old Town Road" ft Billy Ray Cyrus dips 6 - 8 after 13 incredible weeks at #1! The Song broke the all time Billboard Hot 100 Record after topping the US chart for 19 weeks!!
Lewis Capaldi's "Someone You Love" holds for a 2nd week at #9 while Ed Sheeran's collab "Beautiful People" with Khaid slips 8 - 10!