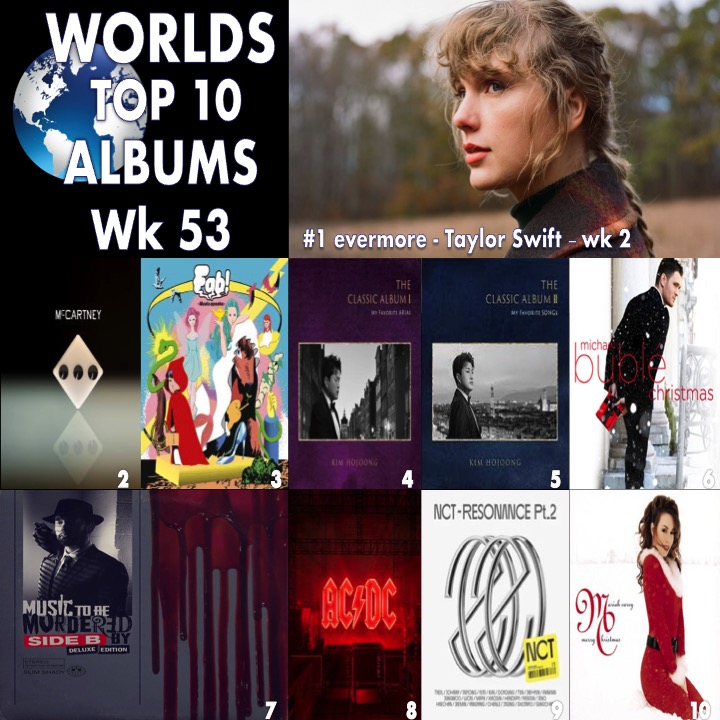 Taylor opens 2021 atop the United World Chart for a 2nd week, and at #1 on the Global Digital Artist Rank for an 18th day since the release of 'evermore' which tops the Worldwide Apple Music Album Chart for a 20th day and the Worldwide ITunes Album Chart for a 14th!
'evermore' scores a 2nd week at no.1 on the United world chart after selling another 271,000 units. According to the United World Chart 'evermore' has sold 721,000 official units so far excluding China where she is the top-selling foreign Artist. As per Republic Records, 'evermore' sold over 1 Million Records in its 1st week globally including China. 'evermore' is Taylor's 9th studio album, released on December 11, and is a "sister album" to 'folklore' which was released 5 months earlier. The critically acclaimed album was a huge commercial success, debuting at #1 on the Billboard 200 in America, with Swift becoming the first woman in American history with 8 consecutive number-one debuting albums!  All 15 of 'evermore' tracks entered the Billboard Hot 100 the same week, with the lead single, "Willow", becoming her 7th No.1 single on the chart. Swift became the first act to simultaneously debut atop both the Billboard 200 and the Hot 100 charts twice! 'evermore' also hit #1 in Australia, Canada, New Zealand and the UK where she also broke the record for fastest female artist to score 6 No. 1 albums in the UK, and fastest female Act to score 2 x No. 1 albums in Australia! 
Taylor's album 'folklore', released via Republic Records on July 24, broke many streaming records, and won the Guinness World Record for the biggest opening day on Spotify for an album by a female artist! According to Republic Records, 'folklore' sold two million copies in its first week globally! It reached No. 1 in Australia, Canada, Ireland, New Zealand, the UK and many other countries. 'folklore' is also the best-selling album of 2020 in America. It spent 8 weeks at #1 on the Billboard 200, making it the longest-running chart-topper since 2017. All of its 16 tracks entered the Billboard Hot 100 simultaneously. The lead single "Cardigan" became Swift's 6th US number-one single, with the hitmaker becoming the first act to debut atop both the Billboard 200 and Hot 100 simultaneously! 'folklore' has just topped genius lyrics, the "only album of 2020 to surpass the million mark in 2020! The 63rd Annual Grammy Awards has nominated  'folklore' and its songs for 5 awards including Album of the Year, Song of the Year for "Cardigan", and Best Pop Duo/Group Performance for "Exile". 'Folklore' is considered the exemplary quarantine album, and is widely regarded as one of the most influential albums of 2020. Taylor is the only artist to have two of the most acclaimed albums of 2020 with 27 and 28 reviews.
Back to this week's United World Chart. Music legend Paul McCartney scored the highest debut of the week with his 18th solo album 'McCartney III' which landed at #2 with 252,000 equivalent sales. It is the top selling album of the past week in "pure" sales.
Japanese Band Hey! Say! JUMP debuts at #3 this week on the United World Chart with 'Fab! Music Speaks' after selling 250,000 units!
Korean Trot singer Kim Hojoong lands at #4 with his 'Classic Album Vol.1: My Favorite Arias' selling 240.000 equivalent units in its 1st week and occupies the 5th position with his 'Classic Album Vol.2: My Favorite Arias' which has sold 238,000 units.
Former chart topper, Michael Bublé's 'Christmas' album lifts 7-6 after selling another 158.000 units and 13.733.000 so far! Its the best-selling holiday album of All time!
Eminem's new edition of his former chart topping album, 'Music To Be Murdered By', reenters the Top 10 at #7, selling another 138,000 units and 2,003,000 so far!
Former #1, AC/DC's 'Power Up' dips 6-8 in its 6th week after selling another 137,000 units and 1,007,000 so far while former chart topper, NCT's 'Resonance Pt. 2 reenters the Top 10 at #9 after selling another 132,000 units and 601,000 so far!
Former #1, Mariah Carey's 'Merry Christmas' reenters the United World Top 10 chart at #10 with sales of 91,000 and 13,5 million so far. 'Merry Christmas' is the 2nd best-selling holiday album of all time, just 233,000 units behind Michael Bublé's 'Christmas'!