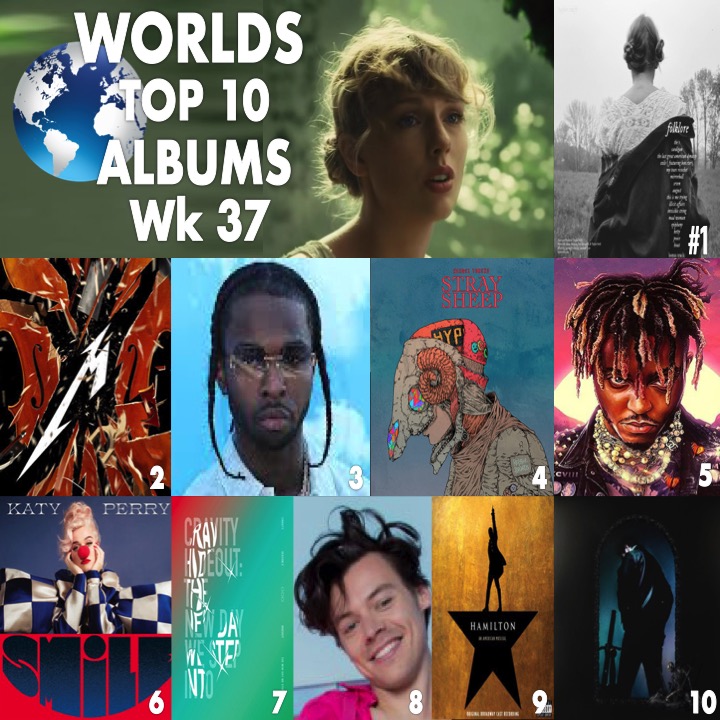 Taylor Swift rebounds to #1 on the Global Album Chart for a 3rd non-consecutive week with her latest Album 'Folklore' after selling another 144,000 equivalent sales and a total of 1,924,000 certified units so far plus over 750k units in China after six weeks on the chart. 'Folklore' was released as a surprise album by Republic Records on July 24, 2020, just 11 months after 'Lover' (2019). The album was written and recorded in isolation during the COVID-19 pandemic. Upon its release, the critically acclaimed album broke numerous records on streaming services, including the Guinness World Record for the biggest opening day for an album by a female artist on Spotify with over 80.6 million streams within its first day of release. It also claimed eight of the top 10 spots of the Global Spotify chart, with "Cardigan" at the top with 7.742 million streams, at the time marking the biggest single-day play count for any song released in 2020. The album also broke the Apple Music record for the most-streamed pop album within 24 hours, with 35.47 million streams, and the Amazon Music indie/alternative streaming record both in the US and worldwide. 'Folklore' debuted at #1 in the US, on the Billboard 200 with 846,000 album-equivalent units, 615,000 of which were pure sales and 289.85 million on-demand streams, marking the largest weekly sales and streaming figures of 2020! Swift became the first female artist to have 7 albums debut atop the Billboard 200. She is also the first act in Nielsen SoundScan history to have 7 albums each sell at least 500,000 copies in a week. The album held at #1 on the top of Billboard 200 for 3 consecutive weeks making Swift the first woman since Barbra Streisand to have six albums spend multiple weeks at No. 1! In just 3 weeks, 'Folklore' sold over 1 million units in the US, becoming the fastest album of 2020 to hit the mark. Swift became the first solo and first female artist after The Beatles to have 5 albums each top the Billboard 200 for at least six weeks! She also tied Whitney Houston for the most cumulative weeks atop the chart by a woman (46 weeks). All 16 tracks of 'Folklore' debuted simultaneously on the Billboard Hot 100 chart. The lead single "Cardigan" debuted atop the chart, becoming Swift's sixth Hot 100 number-one single and making her the first artist to debut at No. 1 on both the Billboard 200 and Hot 100 in the same week. She also became the first act to debut two songs in the Top 4 and three songs in the Top 6 simultaneously, as "The 1" entered at #4 and "Exile" at #6. Swift has now scored a total of 28 Top-10 hits, and 113 Hot 100 entries surpassing Nicki Minaj as the woman with the most Hot 100 entries of all time. 'Folklore' also hit No. 1 in Argentina, Australia, Belgium, Canada, Czech Republic, Denmark, Estonia, Finland, Ireland, New Zealand, Norway, Switzerland and the UK where it scored the biggest digital sales week in Gt. Britain of 2020! On the UK Singles Chart, "Cardigan", "Exile", and "The 1" opened at #6, #8 and #10 respectively, taking Swift's UK top-ten hits total to 16 and making her the first woman in UK history to debut 3 Top 10 songs simultaneously! 'Folklore' peaked at #2 in Austria, Lithuania, the Netherlands, Portugal, Scotland and Spain, #3 in Sweden, #5 in Germany, #8 in iceland, Italy & Poland, #10 in Japan and #12 in France! 
Legendary heavy metal band Metalica's album 'S&M2' debuts at No. 2 with slightly less than Taylor, selling 144.000 equivalent units in its first week! It's the follow-up to the live collaborative album 'S&M', released in 1999. Like 'S&M', the new album was recorded during a live performance in San Francisco at the Chase Center in 2019. The performance was also filmed, and released theatrically on October 9, 2019. 
Former #1, Pop Smoke's posthumous set 'Shoot For The Stars, Aim For The Moon' lifts 4-3, selling another 122,000 sales units and a total of 1,553,000 so far after 9 weeks in the chart. 
Japanese genius Musician Kenshi Yonezu's 'Stray Sheep' dips 1-4 after 3 weeks atop the Global Album chart, selling another 102.000 units and 1.598 Million so far!
Former #1, Juice WRLD's posthumous album 'Legends Never Die', lifts 6-5 after selling another 100.000 units and 1.616 Million so far!
New entry at #6 for Katy Perry's 'Smile' album after topping the Worldwide Apple Music Chart for 8 days and the Worldwide iTunes Album Chart for 5! The album has so far peaked at #2 in Australia, #3 in Scotland, #4 in New Zealand, #5 in Belgium, Canada, Spain, the UK and the US, #8 in Austria & Switzerland, #9 in Ireland and #10 in Italy! It also hit #13 in the Netherlands, #14 in Germany, #17 in France & #18 in Finland!
New entry at #7 for Korea  Band Cravity's 'Hideout: The New Day We Step Into ~ Season 2' after selling 85.000 units in its 1st week!
Harry Styles' 'Fine Line' dips 7-8 after selling another 63.000 equivalent units and 3.026 Million so far, while 'Original Broadway Cast Hamilton: An American Musical' dips 8-9 after selling another 98.000 and 2.740.000 since its release on December 13, 2019.
Post Malone's former chart topper 'Hollywood's Bleeding' holds at #10 after selling another 47.000 units and a total of 5.104.000 so far.