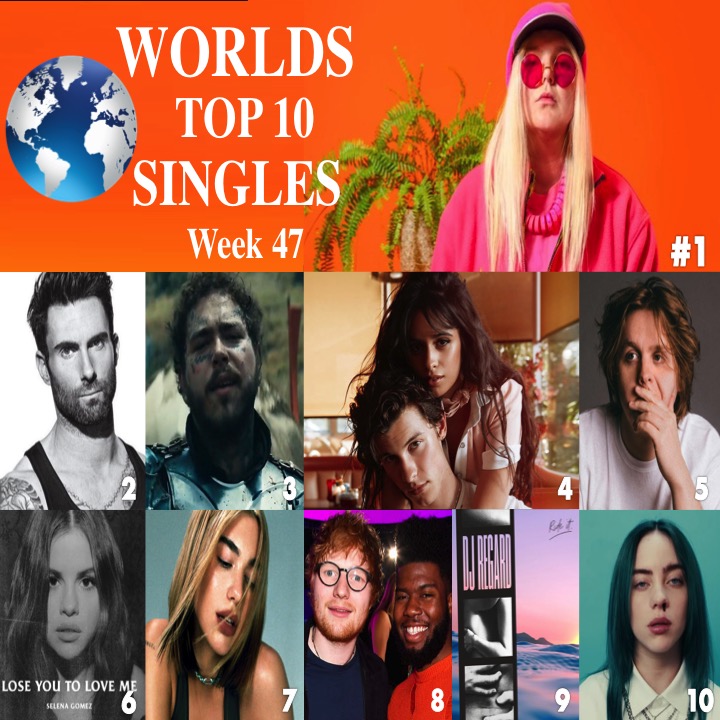 Tones and I's "Dance Monkey" scores a 5th consecutive week atop the Global Track Chart! "Dance Monkey" was released on May 10, 2019 as the 2nd Single from Tones And I's debut EP 'The Kids Are Coming'. The Song has broken the all time record for most weeks at #1 on the ARIA Singles chart in Australia! "Dance Monkey" has also topped the weekly charts in 28 countries including Australia, Austria, Belgium, Bulgaria, Czech Republic, Denmark, Estonia, Finland, France, Germany, Hungary, Iceland, Ireland, Israel, Italy, Lithuania, Luxembourg, Mexico, Netherlands, New Zealand, Norway, Poland, Scotland, Slovakia, Sweden, Switzerland, the UK and Ukraine! The chart topper says the song is about the expectations that are placed on musical performers. It is the first Single of Tones and I to chart on the US Hot 100 in America, currentlly holding for the 2nd week at #23.
Maroon 5's "Memories" lifts 4 - 2, Post Malone's "Circles" holds at #3, "Señorita" by Shawn Mendes & Camila Cabello dips 2 - 4 after 13 weeks at #1 while Lewis Capaldi's "Someone You Loved" lifts 6 - 5.
Selena Gomez's 'Lose You To Love Me" dips 5 - 6 while Dua Lipa's "Don't Start Now" holds at #7.
Ed Sheeran's "Beautiful People" with Khalid holds at #8, Kosovo DJ, Regard's "Ride It" holds at #9 and closing this week's global top 10 is Billie Eilish's "Bad Guy" which holds at #10 for a second week!