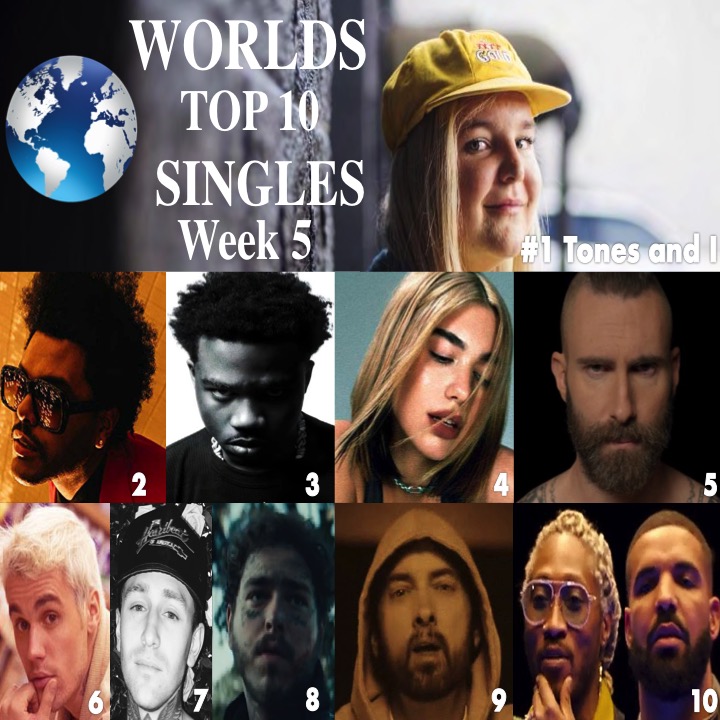 Byron Bay Star, Tones and I, tops the Global Track Chart for an incredible 14th week with her smash hit "Dance Monkey"! Noone, apart from Mariah Carey for one week over the xmas holidays, has been able to replace the catchy song at #1. Released on May 10, 2019, it's the 2nd Single from the chart topper's 'The Kids Are Coming'. The Song broke Ed Sheeran's all time record for most weeks at #1 on the ARIA Singles chart in Australia, and held atop the chart for 24 weeks! Tones also broke the record for most weeks at #1 for a Female Artist on the official UK Singles chart, holding at #1 for 11 weeks! "Dance Monkey" has also topped the weekly charts in 36 other countries including Australia, Austria, Belgium, Bulgaria, Canada, Czech Republic, Denmark, Estonia, Finland, France, Germany, Greece, Hungary, Iceland, Ireland, Israel, Italy, Latvia, Lithuania, Luxembourg, Malaysia, Mexico, Netherlands, New Zealand, Norway, Poland, Portugal, Romania, Scotland, Singapore, Slovakia, Slovenia, Sweden, Switzerland, the UK and Ukraine! It is the first Single of Tones and I to chart on the US Hot 100, peaking at #7.
'Blinding Lights' by The Weeknd reaches a new peak at #2 on the global track chart while Roddy Ricch's 'The Box' reaches a new high, lifting from 6 to 3!
'Don't Start Now' by Dua Lipa dips 2-4 while Maroon 5's "Memories" dips 4-5 and Justin Bieber's "Yummy" slips 5-6.
Arizona Zervas' "Roxanne" lifts 9-7 while Post Malone's "Circles" holds at #8.
New entry at #9 for Eminem's "Godzilla" ft. the late Juice WRLD while Future's Life Is Good ft. Drake slips 7-10!