U2's Ordinary Love Wins Best Song at the 2014 Golden Globe Awards!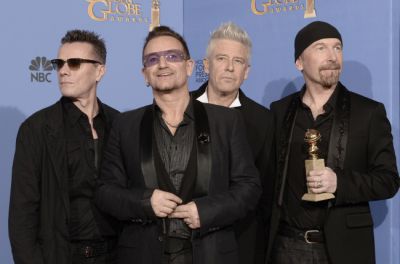 U2 won big at the 71st Golden Globe Awards this year, taking home the Best Original Song trophy for "Ordinary Love," their first new song in three years, written in honor of the late Nelson Mandela and featured in the Idris Elba-starring biopic Mandela: Long Walk to Freedom.

"This really is personal for us," Bono said during the band's acceptance speech. "This man turned our life upside down, right-side up, a man who refused to hate, not because he didn't have rage or anger or these things, but that he thought love would do a better job. We wrote a love song because it kind of is what is extraordinary about the film — it is kind of a dysfunctional love story. That's why you should see this film. You know about the global statesman, you don't know about the man, that's why you should see this film. We're good at the dysfunctional love stories."

U2, who have a new album expected to drop in April, beat out Justin Timberlake's Inside Llewyn Davis contribution "Please Mr. Kennedy," Coldplay's "Atlas" from The Hunger Games: Catching Fire, "Let It Go" from the animated Disney flick Frozen (sung by actress Idina Menzel), and Taylor Swift's "Sweeter Than Fiction" from One Chance. 

U2 are also potential Oscar nominees, after being included in the not-so-short list for Best Original Song. Nominees for the 86th Annual Academy Awards will be announced on January 16.

Other notable wins at the Golden Globes: 30 Seconds to Mars frontman Jared Leto earned the Best Supporting Actor in a Motion Picture award for his role in Dallas Buyers Club, and Edward Sharpe and the Magnetic Zeros leader Alex Ebert took home Best Original Score for his work on the film All Is Lost.
Website Proudly Designed, Development & Supported by Nocturnal Cloud.