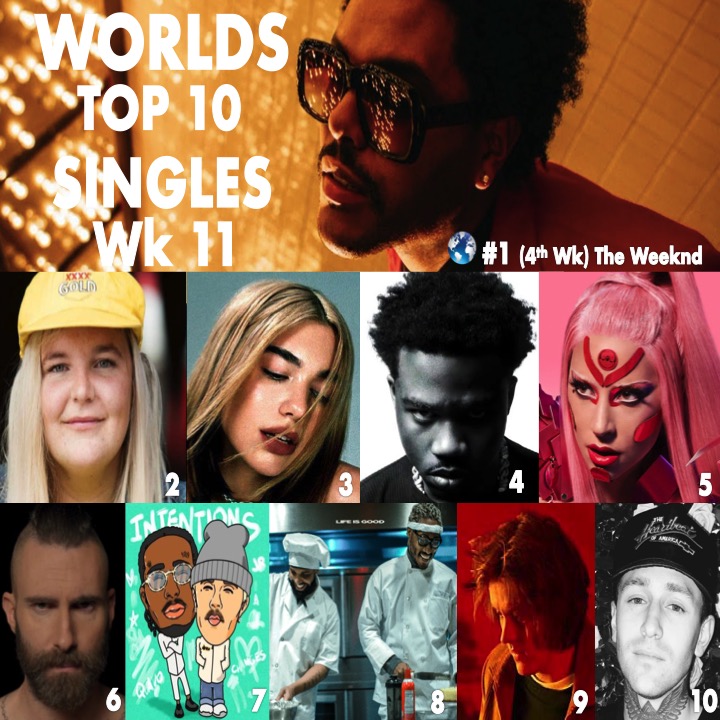 "Blinding Lights" which the Weeknd copenned and coproduced with Max Martin and Oscar Holter, was released on November 29, 2019, and debuted at #1 on the Official UK chart, Abel's first number one Single in Gt. Britain. It has just scored a 5th week at #1 in the UK! The Song also went to #1 in Australia where it has just scored an 8th week atop the chart! "Blinding Lights" has peaked at #1 on the weekly charts in a total of 25 countries so far including Austria, Belgium, Croatia, Czech Republic, Denmark, Estonia, Finaland, France, Germany, Greece, Ireland, Israel, Lithuania, Mexico, the Netherlands, New Zealand, Norway, Poland, Portugal, Scotland, Slovakia, Sweden and Switzerland. In the US, the Single debuted at #2 on the Rolling Stone Top 100 Songs chart, blocked from going to #1 by The Weeknd's own "Heartless", and has so far reached #7 on the Billboard Hot 100! "Blinding Lights" has already been certified gold in Denmark, Germany, Italy and Spain, and is now Platinum in Belgium, France, Mexico, Norway and the UK and double Platinum in Australia and Canada.  It's The Weeknd's third global number one following "Can't Feel My Face" which topped the chart for 3 weeks in August - September 2015 and "Starboy" which held atop the global chart for 4 weeks in December 2016. "Blinding Lights" is the 2nd single off the Weeknd's upcoming studio album 'After Hours' which will drop on March 20. 
Tones And Is "Dance Monkey" holds at #2 for a 4th week after topping the chart for 16 non consecutive weeks,  while Dua Lipas "Don't Start Now" holds at #3 and Roddy Ricchs "The Box" holds at #4!
Lady Gaga debuts at #5 with "Stupid Love", the highest new entry of the week, while Maroon 5's "Memories" holds at #6!
Justin Bieber's "Intentions" ft. Quavo lifts 9-7, Future's "Life Is Good' ft. Drake rises 10-8, Lewis Capaldi's "Someone You Loved" rebounds 15-9 while Arizona Zervas' "Roxeanne" rebounds 14-10!