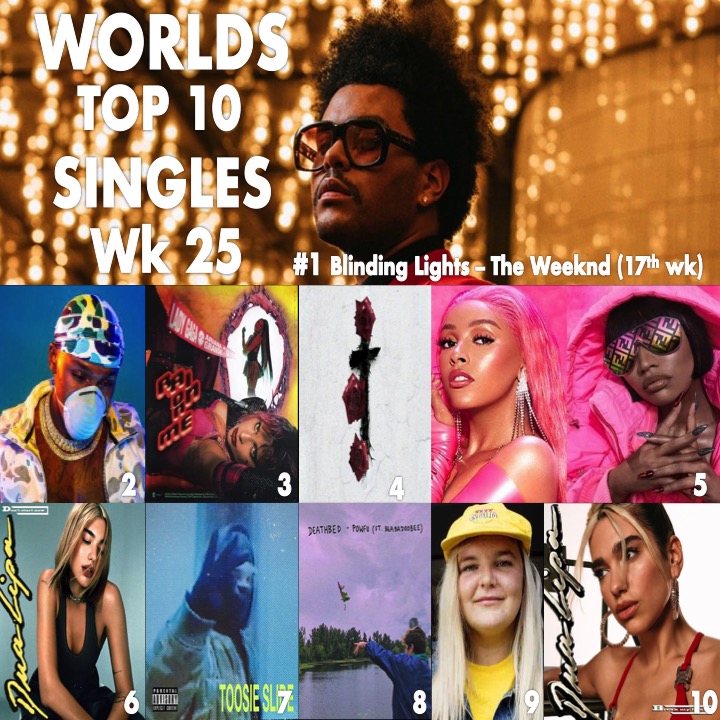 The Weeknd​'s "Blinding Lights" scores a 17th week atop the Global Track Chart with just 2 weeks to go before tying for the All Time Record of 19 weeks at #1 held by Bryan Adams' "Everything I Do I Do It For You" in 1991 and Pharrell Williams' "Happy" in 2014! "Blinding Lights" is the #1 top selling song of 2020 so far! Released on November 29, 2019, "Blinding Lights" didn't reach #1 in the US till March 30, 2020, then held for 4 weeks atop the hot 100, becoming The Weeknd's third multi-week leader! "Blinding LIghts" also became The Weeknd's fifth number one single on the Canadian Hot 100 and held atop the chart for 7 weeks! In the UK, "Blinding Lights" topped the official chart in February 2020, becoming The Weeknd's first number-one single, holding for 8 non consecutive weeks! It also became his first number one single in Germany where it held atop the official chart for ten whole weeks! In Australia, it topped the ARIA Charts for eleven non-consecutive weeks and is the sixth longest-running number-one of all-time in the country! In New Zealand, it topped the singles chart for four non-consecutive weeks. In Latin America, "Blinding Lights" topped the charts in Mexico.
Elsewhere in Europe, the song topped the weekly charts in Austria, Belgium, Croatia, Czech Republic, Denmark, Estonia, Finland, France, Greece, Hungary, Iceland, Ireland, Israel, Italy, Latvia, Lithuania, Netherlands, Norway, Poland, Portugal, Scotland, Slovakia, Slovenia, Sweden, and Switzerland. It also reached a position of number 2 in Lebanon, Malaysia, Russia, number 5 in Bolivia and Ukraine, number 6 in Chile, number 7 in El Salvador & Romania, number 9 in Panama and number 16 in Spain. 
DaBabys "Rockstar" ft. Roddy Ricch lifts 3-2, reaching a new peak, while Lady Gaga and Ariana Grande's "Rain On Me" dips 2-3 on the Global Track Chart after scoring the biggest debut of the year, ending the Weeknd's straight run at #1 after 15 weeks. "Rain On Me", released on May 22, is GaGa's 7th global No.1 hit and Grande's 5th.
SAINt JHN's "Roses" remixed by Imanbek holds at 4, Doja Cat's "Say So" ft. Nicki Mina jholds at #5, Dua Lipa's "Don't Start Now" lifts 7-6 and Drake's "Toosie Slide" dips 6-7. 
Powfu's "Death Bed" ft. beabadoobee holds at 8, while former chart topper, Tones And I's "Dance Monkey" stays at 9 in its 42nd week and Dua Lipa's "Break My Heart" lifts 11-10!